Saturday morning I headed out with my father to hike the Lost Lake trail down near Seward. The trail is only 15 miles, but we enjoy doing overnight backpacking trips, and we heard there was good fishing at the lake, which is pretty much right at the midway point of the trail. We figured an easy 7.5 miles each day with some fishing in between sounded like a good way to spend Father's Day weekend.
Turns out things didn't work out quite as well as expected.
The hike started off well enough, passing by a waterfall in the first couple of miles:

And an easy creek crossing a mile or so later:

We even took the time to do a little geocaching:

But before long, we started running into a fair amount of snow on the trail: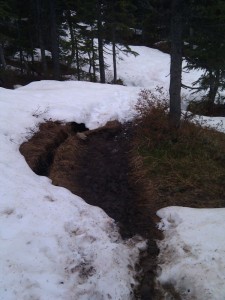 And it just kept getting worse. At this point, it was raining, and getting very cold and windy. I kept hearing my dad muttering things about dying of hypothermia. Plus, we were having trouble finding the trail in some places, there were such large sections covered in snow:

It was at this point that we decided to turn back. We were about 5 1/2 miles in, and not even quite at the summit yet, so we knew it was only going to get worse from there. So we hiked the 5 1/2 miles back to the trailhead, giving us a longer day of hiking than anticipated. It was getting late, and we were wet, cold and tired, so we drove into Seward and got a hotel for the night.
Of course, when we woke up in the morning, it was a beautiful day in Seward: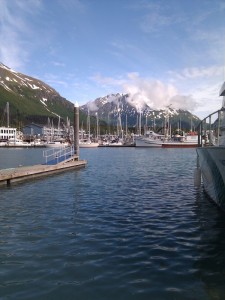 Oh well, so we didn't exactly luck out in the weather department for this trip, but it was still an enjoyable hike. And I found out that I did handle hiking quite a bit better with my newfound weight loss. My backpack was about 35 pounds, so I was still hiking around 25 pounds lighter, which was a great feeling. I found myself breathing much easier, and my legs weren't burning anywhere nearly as bad as they have in the past. Chalk that up as a win for good health!