In the recap of my first 1/2 marathon, I mentioned that by the end, I could definitely feel myself running out of fuel in the tank. I decided that I needed to start experimenting with different ways of fueling my long runs, so that something like that doesn't happen again, and I'm able to keep going strong through the entire race.
This post is the first in a series where I'll document my experience trying different running fuels. First up are Clif Shot Bloks, which came highly recommended by several runners, so I was eager to give them a try.
Friday afternoon I set out for a 10 mile run, and so I thought it would be a perfect opportunity to try the Clif Shot Bloks. They come in a long narrow package with 6 Bloks, which makes it pretty easy to ration out and spread through your run (I ate 5 over the course of 10 miles). Each of the Bloks are a decent size, but also quite soft and chewy, so they were easy to eat while continuing to run. I've tried a couple of different energy bars in the past, and found them difficult to chew while running and breathing hard. This was definitely not the case with the Shot Bloks.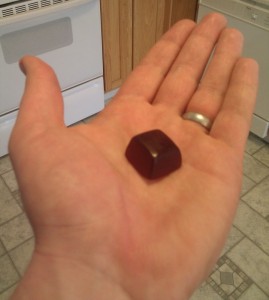 The Shot Bloks come in a number of different flavors – the ones I tried were Mountain Berry, which were pretty darn tasty, kind of like a giant gummy bear blob! In my past life, I probably would have just snacked away on these babies all afternoon on the couch watching TV. They are 33 calories each, so it's easy to ration them out and customize to your workout / personal needs.
Now for the burning question – how well did they fuel my run? I realize there are a lot of factors that effect how well you run, how tired you get, how wiped out you feel afterward, etc., but I sure felt a heckuva lot better after this run than on past runs of a similar distance. I ate one Shot Blok right before I left for my run, and then 4 more spaced out pretty evenly throughout my run. I felt pretty strong the whole way through, even on some of the bigger hills, and when I was done with the 10 miles, I definitely felt like I could have kept going for more!
I'm going to keep trying other fuels/gu/gels just to be able to compare them all, but right off the bat, I'd have to say that I'm pretty in love with the Clif Shot Bloks.
What do you use to fuel your longer runs? Have you tried Clif Shot Bloks before? If so, how did you like them? Do you have any suggestions for what I should try next?