Ever since Christopher McDougall's book Born to Run came out in 2009, barefoot and minimal running have become quite the topic of conversation in the running community. I have been interested for a while in trying the Vibram Five Fingers (VFF), a minimal running shoe that is little more than a glove for your feet. The idea is that it gives you nearly all the benefit of running barefoot, while giving your foot a bit more protection. Besides, it seems like everyone and their sister is running in them these days – I had to try them for myself!
I kept putting off the purchase because it seemed like not so long ago that I had bought my last pair of running shoes, but my wife and I decided that it would be a little congratulatory gift for me after finishing my first 1/2 marathon. That actually worked out really well, because in our goodie bag for the race, there was a 15% off coupon at REI, and guess what I used it on??? I ended up going with the KSO's (keep stuff out) because they seemed like the best all-around general use model, and I figured that at some point, I'd likely want to do more than just running in them.
I took a little bit of a chance because I just ordered them from REI's website without actually trying some on at the store. But they actually have a very detailed sizing guide, so I measured out my feet, and according to their guide, I'm a 46 (they use European sizing). Lucky for me, they fit perfectly! When I first got them in the mail, I was very interested to try them on and see how they felt on my feet, especially the individual toe holes. Five Fingers are meant to be very form-fitting to your foot, and they took me a few minutes to get on the first try. Now that I've had a bit more experience with them, I can get them on rather quickly. What I've found that seems to work pretty well (for me anyways) is starting with my big toe, and sliding one toe into position at a time, instead of trying to just ram them all in at once.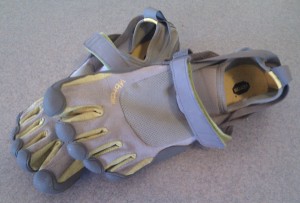 My First Run in Five Fingers
Everything that I've ever read about getting started with running in Five Fingers is to start slow. You are exercising different muscles in your legs, because being nearly-barefoot forces you into a different (but more natural) stride. As I've talked about before, my wife is current doing Couch to 5K, so I used one of those runs together as my first in Five Fingers.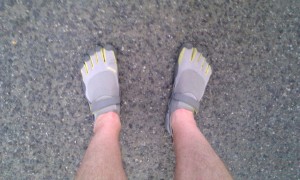 My first impressions:
It definitely was a lot different than running in "normal" shoes.
You feel a lot more of the ground (for better or for worse), so you have to watch your step a little closer.
I absolutely love how light my feet feel.
I also love how silently I run without big clunky shoes on. I did my first couple of runs in VFF's without headphones so I could pay close attention to what I was doing. The most striking part of it was that I hardly made any noise as I ran.
Many people warned me about having horribly sore and cramped calves when I first started running in VFF's, but I really didn't have much trouble with that. I mostly credit that to the fact that I've already been running with a mid-foot strike for quite some time, so it wasn't as quite as big of a change in running form for me as it was for others.
In 2 weeks, I've gone for 4 runs in my new VFF's, and I'm extremely happy with them. I enjoy wearing them so much, I often just wear them around the house. I haven't gotten a chance to yet, but I'd really like to try some hiking in them. I'm trying to ease into this as much as I can at this point and not overdo it. But I definitely plan on working up the distance I can run in the VFF's. What I would really like to do is run the Las Vegas 1/2 marathon in them, but we'll see how that goes.
Have you tried running barefoot or in a minimal shoe like the Vibram Five Fingers? If so, how do you like it? If not, what's keeping you from trying it?