The short version: I absolutely LOVE these shoes!
The longer version:
Altra is a relatively new shoe company that makes a line of zero drop shoes. Zero drop means that there is no difference in height between the heel and the toe of the shoe. For comparison's sake, a pair of "regular" shoes typically have a 10-14mm heal-to-toe drop. I really liked the idea of these shoes, because they are a minimal shoe, with the zero drop giving you a much more "natural" feel, while still providing a decent amount of cushioning – unlike something like Vibram FiveFingers. I thought it sounded like a great compromise, and was excited to try them out. The Instinct is their road running shoe, awarded "Best Debut" this year by Runner's World.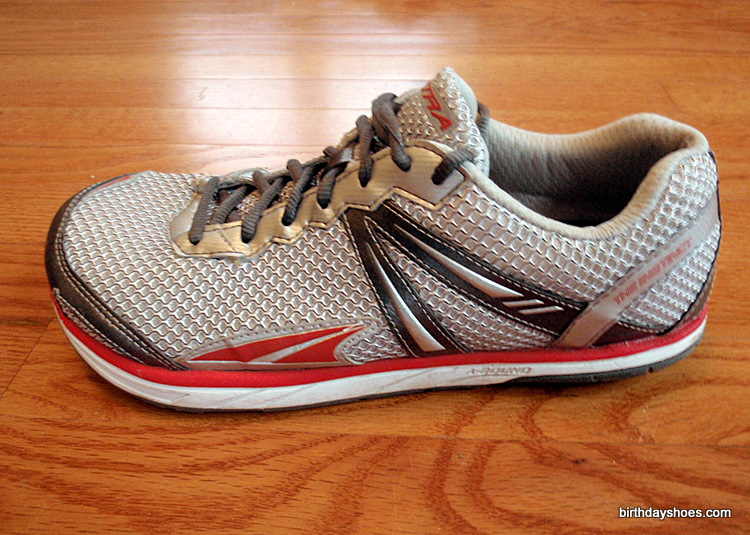 One of the other big selling points of Altra's shoes is a wide toe box, allowing your toes to splay out more naturally, as opposed to most running shoes that seem to crunch your toes together. The wide toe box had me sold from the very first moment I put the shoes on. My initial impression was "wow, I never knew a pair of running shoes could be this comfortable!" I knew that if these shoes felt even half as good while running as they did just standing there, I would really be in love!
I've now got a little over 200 miles on my pair of Instincts, and they have been nothing short of fabulous. I've run about half a dozen 18-22 mile training runs in them so far, and they're the shoe I plan on wearing for Mayor's Marathon coming up next month. These shoes feel great to run in, they're light and airy, and once again the wide toe box is awesome.
The combination of Altra Instincts and a pair of Injinji socks seems to be a nearly fool-proof method of preventing blisters. Previously, I would fairly regularly get small blisters in between my toes, or on the outside of my little toes. Since I started running consistently in my Instincts, I haven't had a single blister.
Next up? I'm doing my best to acquire a pair of Lone Peaks, Altra's trail running shoe. However, my sasquatch-like size 14 feet are foiling me again, as it seems everyone is currently out of that size. But it's only a matter of time, and I can't wait to give them a try!