Considering how long it takes to run 100 miles, it's okay that it took me more than 3 weeks to write a race report, right?
Right???
Anyways, back at the start of February, I traveled down to Huntsville, TX to run the Rocky Raccoon 100. After running my first 100 miler here in Alaska last summer at a race that was mostly self-supported with only 2 aid stations, I was looking forward to running a fully-supported ultra where I wouldn't need to carry much with me. Rocky Raccoon is also a relatively flat course, with a total of about 5,000 feet of elevation gain over 100 miles.
I was also excited to run a relatively high-profile 100 miler where I would be running "with" some of the elites of our sport. Rocky Raccoon is part of the Montrail Ultra Cup, meaning that the top 3 men and women win entry into Western States. The race was also the 2014 USATF 100 Mile Trail Championship, so the combination of the two really brought out some of the big guns. The elite field included recent Grand Slam record-setting Ian Sharman (who also holds the Rocky Raccoon course record of 12:44:33), and #1 & 2 female ultrarunners of the year Michele Yates and Pam Smith.
Since I was traveling all the way from Alaska, I arrived in Texas on Thursday to give myself a little extra time to get over the jet lag and adjust to the 3 hour time difference. We spent Thursday playing tourist around Houston before heading to Huntsville Friday afternoon in time for the race briefing and packet pickup.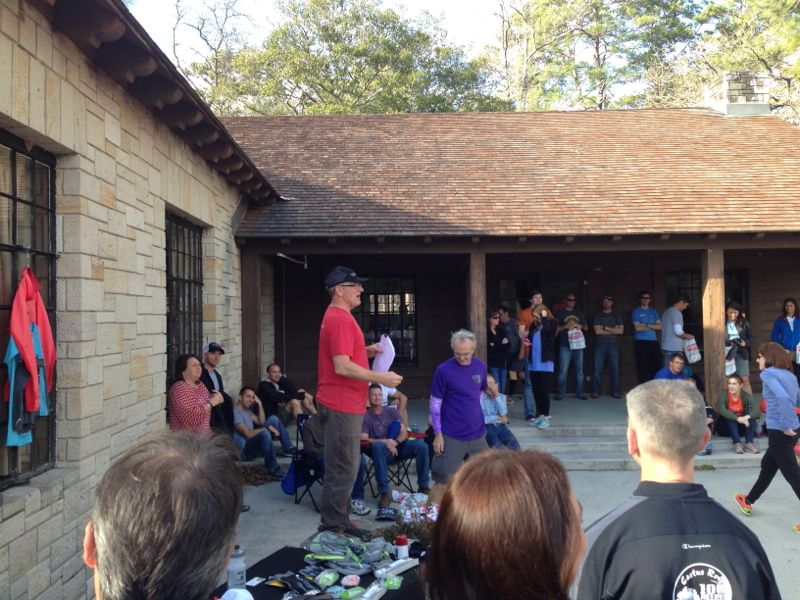 Race director Joe Prusaitis giving the race briefing Friday night.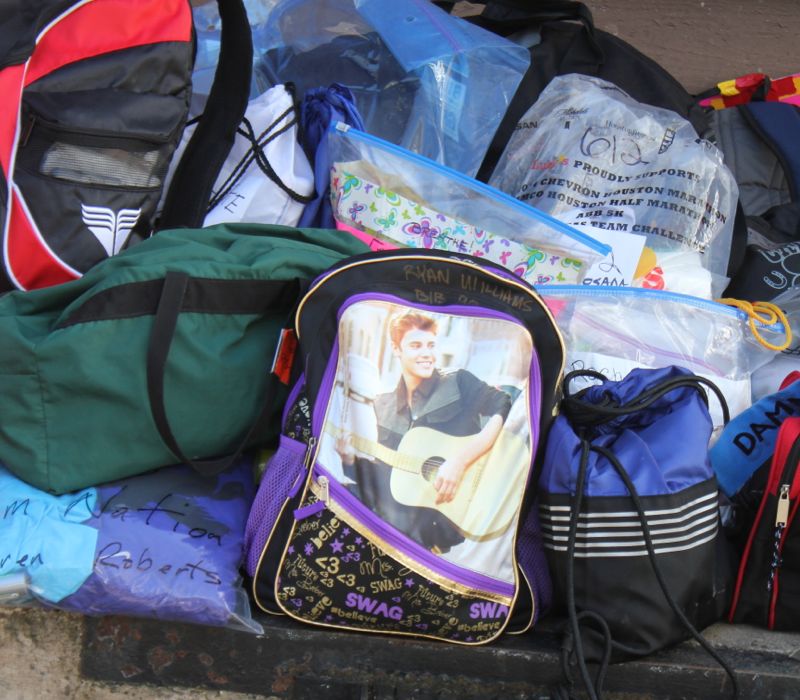 Best. Drop bag. Ever.
The Rocky Raccoon course is 5 20 mile loops through Huntsville State Park. Aside from the start/finish area, there are 3 aid stations along each loop, one of which (Damnation) you visit twice, and can also have a drop bag there, which I did. With aid stations at such regular intervals (the furthest between them being 6 miles), I ran with one 20 oz bottle in a waist pack that also had a pocket for a bit of food, and one 20 oz handheld. I left 2 spare bottles with my crew so that they could prefill them for me with Tailwind and quickly switch them out at the end of each loop.
I'll divide up the rest of my race report by loop, and then give my overall impressions of the race at the end.
Ready to get this party started!
Loop 1
The race started bright and early at 6am Saturday morning. With nearly 500 runners plus crew, pacers, etc., there were concerns about the parking situation, so we arrived at Huntsville State Park shortly after 4am. After dropping off my drop bag near the start/finish area, I went back to the car to eat a bit of breakfast and get some coffee in me while I waited for the race to start.
About 5:45, I headed over to the start area. I was in no hurry, so I slipped in near the back of the pack. I was far enough back that I never heard a gun go off or anything like that, people just started cheering and moving forward. With nearly 500 runners, it was probably 2 miles before the crowd really spread out and I could comfortably run. It was still dark out for about the first hour so I was running with my headlamp, but I was able to ditch that at the Damnation aid station about 6 miles in, where I had a drop bag waiting. After leaving Damnation, you head out on a 6 mile loop before coming back through Damnation a 2nd time.
I felt really good all through the first loop. The day started in the low 60's, which wasn't bad, but the humidity was around 93%, which is something I'm just not used to coming from Alaska, where it's typically very dry, especially in the winter. I was sweating a lot and trying to keep up with my fluids as best I could. My plan was to try and go through the first loop in around 4 hours, then add about 15 minutes for each subsequent loop. My first loop ended up being a little fast, about 3:53, but I still felt great and didn't think I was pushing too hard too early, so it didn't worry me much.
Loop 2
Going into this race, I was a bit worried about the potential monotony of a looped course. I actually found a certain comfort in getting to know the course and being able to expect what I had coming up in each section. I mentally broke the course down into the sections between each aid station. It was interesting how quickly I came to love and loathe different sections of the course.
It's funny that in the midst of a 100 mile race, how long the 6 mile Damnation loop started to feel. It was during the Damnation loop on the 2nd lap that I felt my first low. The humidity was getting to me, I obviously hadn't been drinking enough, and was starting to feel a little loopy. I ended up falling twice in this section, tripping on the roots that Rocky Raccoon is famous for. I gave myself a quick pep talk, knowing that if I did that too many more times, I could end up hurting myself badly enough to end my race prematurely. The good news is that I never fell again the entire race. The bad news is that my stomach was starting to turn, and I was having trouble taking in any food or fluids, which is exactly what I needed at that point.
By the time I reached Park Road, the last aid station of each loop, I was feeling pretty crappy and my left calf was cramping badly. As soon as I came into the aid station, the awesome volunteers were all over me. One got behind me and started rolling out my calf with The Stick, while another brought me salted potatoes and Endurolytes. Before leaving, another volunteer poured a bunch of cold water over my head and the back of my neck. I headed back out to finish the loop feeling like a new man!
I may have finished this loop feeling much better, but my slump had slowed me down much more than planned – I finished the 2nd loop in 4:46.
Loop 3
There's not a whole lot about the 3rd loop that really sticks out in my mind at this point. After passing through the Damnation aid station for the 2nd time (52 miles into the race), I knew it would be getting dark soon, so I pulled my headlamp back out of my drop bag, and prepared for running through the night.
Overall I was feeling much better than the last lap, eating regularly at the aid stations and drinking plenty. But the fatigue was really starting to settle into my legs, and I was slowing down quite a bit. Many of the smaller hills that I had been running on the first 2 laps, I found myself walking now. The 3rd loop took me 5:15.
Getting ready to head out on my 4th lap. I really didn't feel as bad as I look, but this photo makes me laugh. Plus, you can see that I spilled my soup all over my hand. I'm classy like that after 60 miles.
Loop 4
Many of the race reports I read from previous years said the same thing – the 4th loop is the hardest, at least mentally. You're getting deep into the race, running through the night, and you know that you've still got one more loop to go. The Damnation loop felt especially long this time around.
There is actually quite a bit of sand along parts of the course, and by this point enough of it had gotten into my shoes that it was starting to bother my feet. I had packed extra socks in my drop bag, so when I came back through Damnation I stopped for a quick change. It felt great to get some fresh socks on my feet, and I was good to go for the rest of the race.
Even with a headlamp, the darkness of night really slowed me down. It just sort of sucked the energy out of me, and made it that much harder to spot roots, causing me to slow down to find my footing. I finished the 4th loop in 5:41 – way behind my projected pace at this point, but still in good spirits heading into my final loop.
Excited to be heading out for my last lap! And looking much better than that last photo 🙂
Loop 5
In many ways, the 5th loop felt like a victory lap. With each section of the course that I passed through, I knew it was for the last time. The last Damnation loop was particularly satisfying. This loop was nearly all in the dark, so I was still moving fairly slowly. Every time I stopped at an aid station, no matter how briefly, my legs stiffened and it was difficult to get moving again. That being said, I was still moving better than most others I saw during my last loop. It looked like most of them had resolved themselves to walking the rest of the race, that being the most energy they could muster up at this point. I didn't keep count, but I passed quite a few runners on this loop.
Finally, when I was about 2 miles from the finish, it was light enough out that I could turn my headlamp off. At almost the same time, the sky opened up and rain began to pour. It was in this moment that I found a reserve of energy I didn't know I had, and began running the fastest that I had the entire race – I was ready to be done. I pushed hard those last 2 miles, crossing the finish line in what felt like an all-out sprint, but in reality was probably closer to 9 minute miles. I was completely soaked and it was quite cold (in the high 30's or low 40's), so I didn't hang around the finish line for long. I shook hands with the race director, thanked him for an outstanding race, and received my hard-earned belt buckle.
I was done. I had run 100 miles for the second time. This time around I had done it in 25:32, a whopping 10 minutes faster than my first 100 miler. I finished 122nd out of 280 finishers. The heat and humidity claimed many victims this year, resulting in a 58% finisher rate, the lowest ever in the race's 22 years.
Finishing in the pouring rain.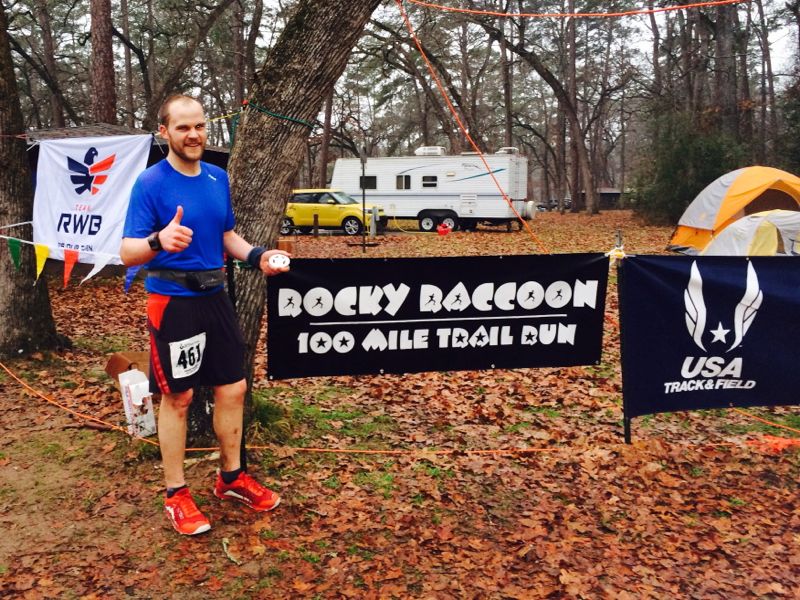 And…DONE!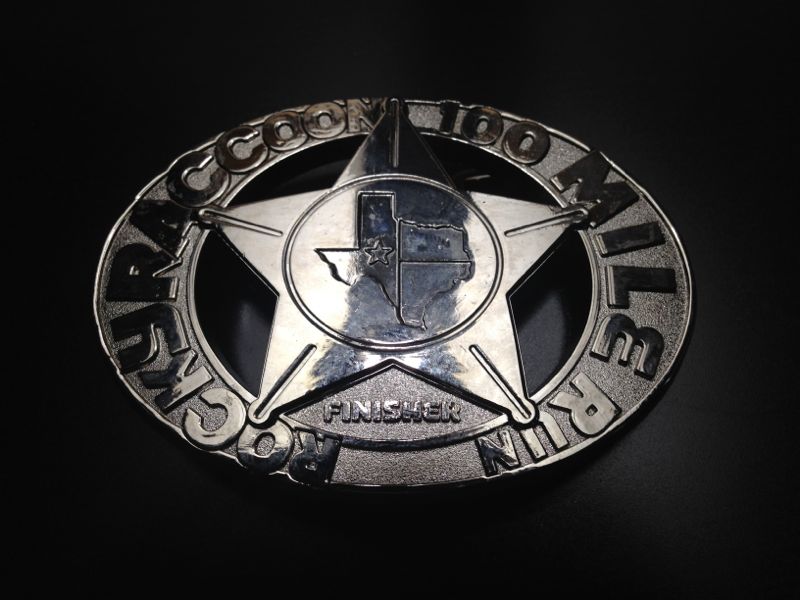 My hard-earned award.
Overall Impressions of the Race, Volunteers, etc.
I can't say enough good things about how well organized of a race this is. The husband-wife race directing team of Joe and Joyce Prusaitis have this thing down to a science. The aid stations are well stocked, and the army of volunteers was awesome.
The moment you stepped into an aid station, there were several volunteers immediately greeting you and asking what they could get for you, offering to refill your bottles, etc. They were dedicated to helping us reach that finish line, and did it with a smile on their face. They made great food all night long, including what quickly became my new favorite – salted potatoes – as well as hot soup, quesadillas, pancakes and even bacon. They were never out of anything I wanted, and always went the extra mile to make sure you had enough of everything before hitting the trail again. I did my best to limit my time in the aid stations, and for the most part I think I did a pretty good job of this, but I could see how you could easily get sucked into spending too much time there.
I would definitely recommend this race to others – it would be a great first 100 miler. I'll admit that it's an "easier" course, as far as 100 milers go, but you still have to respect the distance. There is no such thing as an "easy" 100 miler.