Yesterday, I ran in my first 5K. Overall it was a really great experience, though it started out somewhat badly because they actually didn't have my registration when I showed up. I talked to someone at the "late registration" booth and they were really great about it. They got me registered and didn't even ask me to pay again, just trusted that my original registration would eventually turn up. You gotta love small-town races 🙂
So after I got my little registration snafu squared away, I got myself settled near the starting line.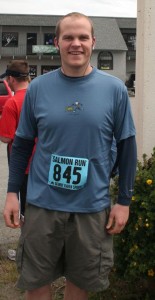 As I expected, the whole thing was pretty low-key. They had one lane of the main road closed down for the runners. Everyone just kind of stood around in the road until the race "official" stood out at the front of the crowd and yelled, "GO!"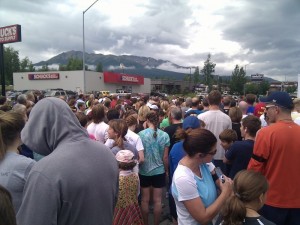 The first minute or so of the race was pretty bunched up, but after that everyone got spread out a bit more and there was plenty of room to run. I had initially positioned myself around the middle of the pack, but I was actually finding myself passing more people than were passing me! About a mile into the race, however, I got passed by a guy wearing a hot dog costume, and suddenly I had a goal for the race – don't get beat by the guy wearing the hot dog costume!
Most of the race course was pretty flat, so I was able to keep up a pretty good pace. Near the end of the course was one of the few decent-size hills. By the time I got to the top of that, I was breathing pretty hard, but then I turned the corner and could see the finish line less than a half mile away. So I kicked it into high gear and finished out strong. Here I am just after coming through the finishing chute.
They didn't have any fancy chip timers or anything like that, so they kept us lined up in the order we finished in so they could record our bib numbers. I'll be interested to see the "official" results, since I can't imagine that their times are very accurate. I kind of figured this was going to be the case, so I used the RunKeeper app on my phone to track my "real" race time.
Speaking of which, I was pretty excited about my finishing time: 25:35 – almost a full minute faster than I was hoping for. Hard to complain about a time like that for my first 5K.
And the best part of the race? I finished ahead of the guy in the hot dog costume! 🙂