Yesterday afternoon, I went on a 16 mile run – my longest yet – and it felt freakin' fantastic! The day started off cold (in the mid 30's), we even got a few light snow flurries in the morning. I bundled up with 3 layers of shirts and long running pants. I also started off wearing gloves, but took those off after about 2 miles once I got warmed up.
This is a beautiful run, right through the middle of Anchorage, from my house near the east side of town, all the way to Westchester Lagoon on the far west side next to the inlet.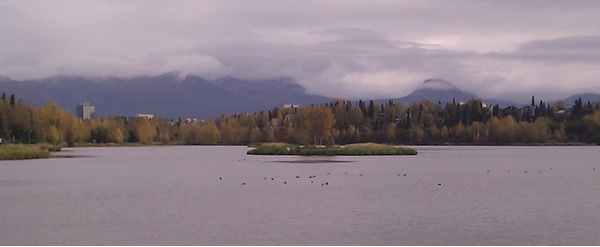 Here's the map of my run from RunKeeper:

The trail winds through trees most of the way, which makes for a lovely run, although that also brings its' own set of hazards:
I was the second person to come across the pair of moose munching on brush, and while everyone else just stared and tried to decide what to do, I snaked my way through the woods on the opposite side of the trail, leaving plenty of room between me and the moose! I was on my way back home at this point, with about 6 miles left to go, so turning around wasn't really an option for me!
All in all (even with the run-in with the moose), this was a really great run. My legs are definitely tired today, but it's a good tired – knowwhatImean?
What a Difference 2 Weeks Makes
Compare this with 2 weeks ago, when I went for a 13.5 mile run, and felt like I was going to die. My body was running on fumes. I had to take lots of walking breaks. There were a few decent size hills that I didn't even attempt to run up. After I finally made it home, for about 30-45 minutes I felt like I was going to puke.
Yesterday, I felt on top of the world. I ran the entire 16 miles – even up the hills that I had to walk before. Yes, my legs were getting tired by the end, but my whole body didn't feel run down like it had 2 weeks ago – I still had fuel in the tank, and could have kept on going if I wanted to.
So what was the difference between yesterday and 2 weeks ago? In a word – carbs.
2 weeks ago, I was near the start of the 30-day Primal Blueprint Challenge, where I was eating a pretty strict primal/paleo diet, which means very few carbs. I'm still eating that way now for the most part, though for about 2 days before this run, I did have some extra carbs as an experiment to see what effect it would have on my run.
Saturday morning I had my world-famous oatmeal pancakes for breakfast, topped with fresh berries
Saturday night was my sister-in-law's birthday party, where I ate mostly primal/paleo, though I did have some pasta – and just a bit of birthday cake and ice cream 🙂
Sunday morning I had oatmeal for breakfast, topped with almonds, pecans, and a scoop of protein powder
That's really all I ate that was "off plan". Those extra bit of carbs in the days leading up to my long run made all the difference in the world. I've got about a week and a half of the challenge left. During that time, I'm going to be looking at other ways I can augment my primal/paleo diet to provide more fuel for my runs. The book The Paleo Diet for Athletes was recommended to me, which was written by Loren Cordain, author of "the" paleo book, The Paleo Diet, so that definitely looks like a good resource. I'll also have my eye out for any other good information on fueling for paleo athletes.
What's your favorite thing(s) to eat in the days leading up to a long run (or other intense exercise)?