This Saturday, I'll be running in my second 1/2 Marathon – the Zombie 1/2 Marathon here in Anchorage.
From what I can tell, this appears to be a pretty low-key event. There aren't any chip timers, and it's unclear from the web site whether there will even be any aid stations, though I should be able to get that cleared up when I pick up my bib this afternoon. The 1/2 Marathon was limited to 500 entrants (there's also a full marathon and the "Undead Ultra" 50k), but for whatever reason, only the first 350 finishers get a medal. So depending on how I do, I may not even get anything to show for my effort. Of course, the medal isn't the reason I do this, but it is a nice little memento to have. And I can only imagine how cool a zombie medal would look! 🙂
I finished my first 1/2 Marathon in 2:05:52. I would certainly like to improve on that this time around, even finishing in under 2 hours if I can manage it, but there are several variables at play that could make this an interesting run.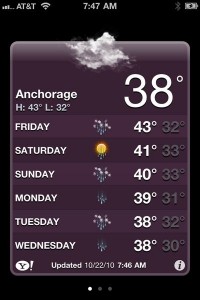 First and foremost is the weather. The race starts at 10am, so I expect the temperature around that time to be in the 30-40°F range, which is more or less what I've been running in the last couple of weeks, so the cold shouldn't be a big factor. So far, we don't have any snow (knock on wood), but it could easily happen any day now. If there's fresh snow and/or ice on the ground, that's definitely going to slow me down. According to my trusty ol' iPhone, they are calling for a rain/snow mix today, and rain tomorrow – yuck!
The other big variable is the course itself. For one thing, it's definitley a bit hillier than my first 1/2 Marathon. Nothing too huge, but still a factor.
I'm very familiar with the first 4 miles or so of the course, as that's where I've been doing many of my long runs lately, and it was also part of the course for my last race. This section is almost entirely flat, so no worries there.
The next 4-ish miles I'm also pretty familiar with, as I've ran/walked/biked that section of the Coastal Trail a decent number of times. The first 2 miles of this section are fairly flat, but in the last 2 miles, you start to come into some decent-size hills.
But it's the last 5-ish miles of the course that have me worried, as I've never been on that part of the trail, and really have no idea what to expect. I mapped that part of the course out in Google Earth, and the hills don't look too bad, but it's also kind of hard to get a good sense of size at that scale, so that could end up going either way.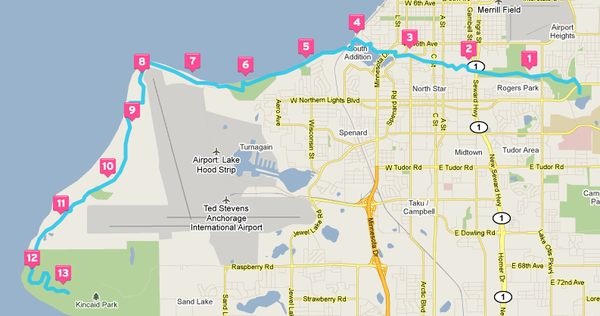 One other thing I'm very excited about is that I recently purchased a Garmin Forerunner 305 GPS watch with heart rate monitor. I've been able to play around with it some on my shorter runs this week, but this race will be my first "real" experience with it. I've learned from the past that I have almost NO idea when it comes to pacing myself, so having a tool like this should be very useful for me. Plus, I'm a geek and like to see all the numbers and graphs that this thing pumps out. 🙂
What are you doing this weekend to be healthy?