With Thanksgiving on its way later this week, the holidays are fast approaching. This time of year is typically accompanied by too much eating and not enough exercise. Many of us use the holiday season as an excuse to overindulge on sweets and other special treats that "only come once a year". On top of that, it's the "off season" for most of us runners, so it's easy to make excuses to not get our workouts in.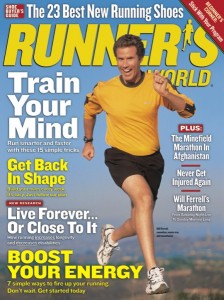 I vow to make this year different. On top of promising myself to take it easy in the eating department, I'm going to do something to make sure I still get my workouts in every day. Over at the Runner's World Training Daily blog, I recently read about their idea of doing a holiday run streak – that is, run at least one mile every day from Thanksgiving to New Year's Day. On Thanksgiving morning, I'm running a Turkey Trot 5k. Then, every day between then and New Year's Day, I'm going to make sure I get in at least a one mile run. I'm going to make this holiday season about staying healthy and fit – not about gorging myself on a fifth slice of pumpkin pie.
Who's with me? Let's go streaking!