As many of us gather today to spend time with our families, I just wanted to take a quick moment to reflect on what I'm thankful for this year.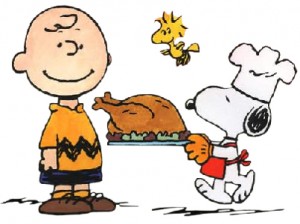 My family – First and foremost, the most important thing in my life. I've got an amazing wife who manages to keep our crazy household in order day in and day out – and not only does she put up with my running habit, she's started to develop one of her own! To top all that off, we have 2 beautiful, healthy kids that fill every day with smiles and laughter.
My health – It's coming up on 2 years since I started this journey towards a healthier life. I'm going to be turning 30 soon, and I'm by far the healthiest I've ever been in my life. I have very little back pain anymore, I have the energy to run around and play with my kids for hours on end, and I even run for fun. These are things that would have seemed foreign to the me of 2+ years ago. I never would have even considered running a marathon back then, it just wasn't in the realm of possibilities for me at the time. It's amazing how quickly those things can change 🙂
My ability to run – Sometimes I'm guilty of getting too caught up in the "minutae" of running, that I forget to enjoy and appreciate the simple act of running itself. Am I keeping a fast enough pace on this run? Will I set a new PR at my next race? How many miles have I logged this week? I need to learn not to take myself so seriously all of the time, and appreciate running just for running's sake. I'm lucky enough to be able to run. Not everyone has that luxury, and I should never take it for granted.
My readers – Yes, YOU! And I'm not just trying to suck up either. From the people that read my blog, to those of you that I interact with on Twitter and dailymile, each and every one of you motivates and inspires me to keep moving along on this journey, and to keep pushing every day to be the very best version of me that I can be.
Wherever you are and however you're spending this holiday, I hope that you take at least a moment to reflect on what you're thankful for.
For all of you in the U.S., I wish you and yours a happy Thanksgiving. And to any of you from outside the U.S., happy Thursday 🙂