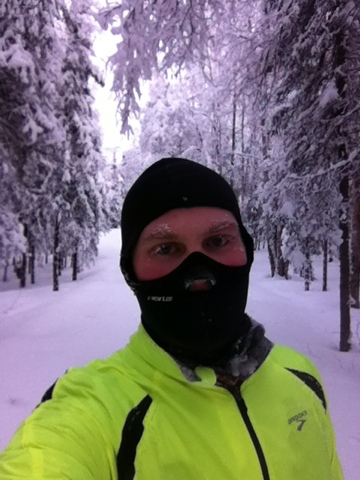 As winter rages on here in Alaska, I've continued to run outdoors, even as the temperatures have dropped farther and farther. To date, my coldest run has been at -7° – 2 weekends ago, I ran a 25 mile race in 5°. Some of you may shudder at the mere thought of running in those temperatures, but to be quite honest, as long as you're dressed appropriately, it can actually be quite comfortable running in the cold. I'll take it over running on the treadmill any day.
I've gotten a number of questions on dailymile about what I wear to run in the cold, so I figured I'd lay it all out in a post here.
In short, it's all about layering, layering, LAYERING!
Layering really is the way to find comfort in cold weather running. It allows for
numerous combinations, depending on temperature, wind, etc. Below I'll detail what I've worn on my coldest runs. For warmer runs, I'll adjust my layers as necessary. It does take a little tweaking to get just right. Obviously, you don't want to be too cold – but you don't want to be too warm either. If you sweat a lot, and that sweat stays close to your body and is then cooled down by the cold air, there is an increased risk of hypothermia. This is why wearing materials that are good at wicking moisture away from your body (i.e. NOT cotton) is even more important in cold weather.
Upper body
My base layer is a McDavid long sleeve compression shirt. I've actually had this shirt since I played football in high school, so it's probably a good 14-16 years old at this point (damn, am I really that old??). It still does the trick, and that's why it's my go-to base layer for any runs under 25-30°. It does a great job of wicking sweat away from my body.
Next I layer a short sleeve shirt over that for added warmth. Any good wicking shirt will do.
Next up is a First Ascent quarter-zip shell from Eddie Bauer. This provides a good amount of warmth, while still allowing for adequate ventilation and moisture wicking. The quarter-zip is great in that it provides a fair amount of variability in regulating temperature if I do get too warm.
My outer layer is a Brooks Essential Run Jacket. This is actually a very thin jacket. The goal isn't to provide more warmth, but to act as a wind block. I found out (the hard way) that while my other layers provide a good amount of warmth, they don't do a whole lot to protect me from the wind. Also, the jacket is bright yellow, which makes it just that much easier for cars to see me during our dark winter days.
To keep my noggin' warm, I wear a full-head facemask, or balaclava. A balaclava allows for a lot of variability in how much of your face is covered, depending on the temperature. Again, you want one that is moisture wicking so that your entire head doesn't turn into a giant ice cube.
For my hands, I don't have anything too fancy, just a pair of lightweight Columbia fleece gloves. The first few minutes my hands might be a little cold, but once I get moving they warm right up. Even at -7°, my hands stayed more than warm enough.
Lower Body
The base layer on my legs is a pair of McDavid tights. These also originated from my high school football days.
Over the tights I wear a pair of Columbia fleece pants. These are nice and warm, though they
are lacking in the wind protection department. This is one area where my winter running wardrobe could use some improvement. I need to find a thin pair of pants, similar to my Brooks running jacket, that aren't there for additional warmth, but to block the wind.
To deal with B.C.F. (more information here, with a helpful chart here), I
typically wear three pairs of underwear to keep my family jewels protected from the cold and wind.
On my feet, I wear two pairs of socks: first a pair of Injinji toe socks which provide a thin base layer, with a pair of wool socks (I like Smartwool) over that for warmth.
That's pretty much it. Like I said, this will all vary somewhat based on the exact temperature, wind, etc., but this is my pretty typical set of gear for cold weather runs.
Where do you draw the line when it comes to running outside in the winter? What's the coldest temperature you've run in?