After several years of lackluster summers in Anchorage, I can truly say that this summer has been amazing. Even if it rained every day for the rest of the summer (but please don't!), I would still look back on this as being one of the nicest summers in memory. We've had tons of sun, with temperatures regularly pushing into the high 70's and low 80's – which is pretty much as hot as it gets around here. For those of you thinking "Low 80's? That's nothing!", consider this: pretty much nobody has air conditioning in their house in Alaska. So when it's been 80+ degrees outside all day, and the only thing you can do to cool off your house is to open the windows and have a few fans running, it can be pretty miserable.
Anyways, this past Sunday I set off into the mountains with a buddy for one last long run/hike/climb before Crow Pass this weekend and Resurrection Pass 100 two weeks later. When we set out in the morning, the weather was looking absolutely beautiful. We had strung together a route that combined a number of popular trails in the mountains above Anchorage, and we'd be hitting some places neither of us had been before. It had all the makings of an epic day – and I wasn't disappointed.
For those familiar with Anchorage, our planned route was to start at the Glen Alps trailhead, head up the saddle of Little O'Malley, climb O'Malley Peak, descend back down past Black Lake to Williwaw Lakes, then go up and over the pass on the left side and come down on the back side of Long Lake, finally coming out over Near Point to end at the Prospect Heights trailhead, where we dropped off a car that morning. We set out only having a fuzzy idea of what the total distance and time was going to be.
The climb up to the saddle of Little O'Malley is fairly steep but other than that not particularly difficult. Then you come to an area known as "The Ballpark" or "Football Field", because it's a large flat area, with random boulders sticking up here and there. From there we headed towards O'Malley Peak, which requires a steep climb up a scree field that can be difficult to find a good/safe route up. Once we got up the scree field, the wind was really whipping and my friend almost lost his hat down the mountain! A bit more climbing over rocks and boulders, and we were at the peak. The view from up there is pretty amazing. It's one of the highest peaks around (nearly 5200′), so you get a panoramic view of the Chugach Mountains, the entire city of Anchorage, and beyond. It's fun looking so far down on Flattop, a short but steep hike that offers great views of Anchorage and is very popular amongst tourists.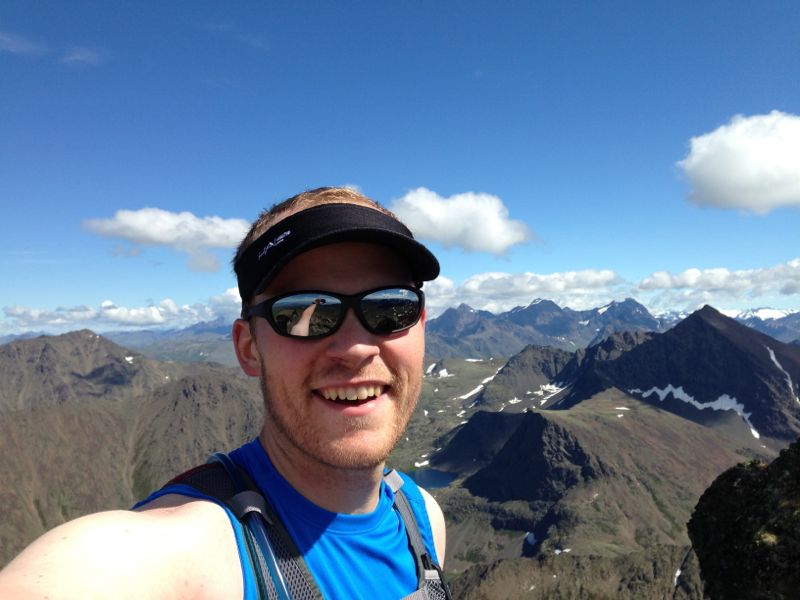 After enjoying the views, we headed back down the scree field. I was worried about the descent being a bit treacherous, but found that if you do sort of a skiing motion down the scree, that actually works out really well – aside from ending up with tons of little rocks in my shoes that I had to empty out once we got to the bottom. From here we continued across the Ballpark, past Deep Lake, then descended down another scree field to Black Lake. Then it was on past Williwaw Lakes, up and over a pass to the left, before a big descent to end up behind Long Lake. This last descent to Long Lake was a little sketchy in places. It was very steep, and the trail we were following seemed like little more than a sheep trail, just barely wide enough for a big guy like me wearing size 14's.
As we made our way along Long Lake, it was very obvious that this side saw much less traffic than the other side we just came from. The trail back to Williwaw Lakes is very popular. We probably saw 20-30 hikers along that route, along with a few tents from those making an overnighter out of it. On the way back out past Long Lake, we only saw one other hiker until we were on our way back down from Near Point. The trails here were much less defined and harder to follow. One minute we'd be on what appeared to be a well-established trail, only to lose it completely a few minutes later. We eventually found our way out to Near Point, and from there we weren't far from the Prospect Heights trailhead where we left a car that morning.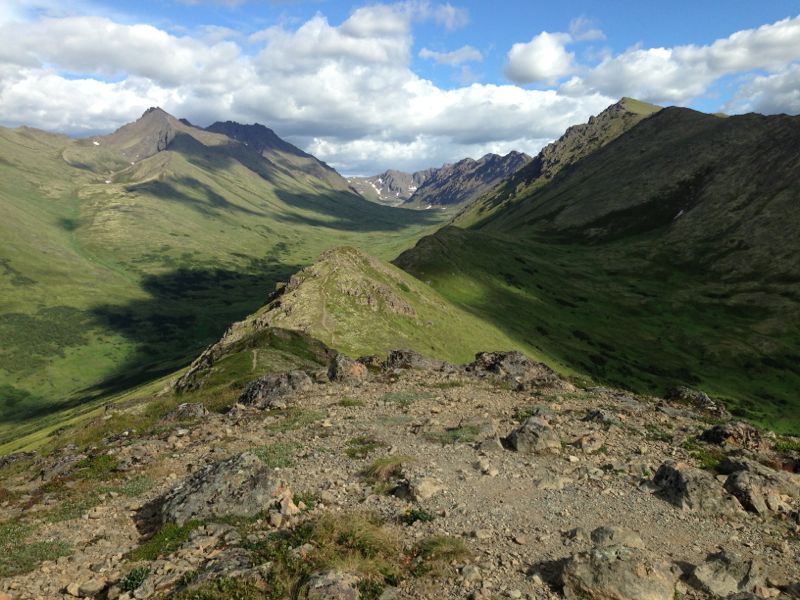 When it was all said and done, we covered just over 20 miles in a little under 8 hours, with 5500′ of climbing, and 7260′ of descent.
A Painful Lesson
It seems like this is a lesson I have to relearn the hard way every 5 years or so: yes, even in Alaska, you can get sunburned – BADLY!
When I woke up in the morning and saw it was going to be a beautiful day, I was excited and decided that it would be a good idea to wear my new sleeveless tech shirt. Up until this point, I was sporting quite the farmer's tan, with the skin on my arms above the elbow a blinding shade of white. Yes, I did apply sunscreen in the morning before we got started, but didn't think to bring any with me to reapply later. The length of time we were out there, combined with the sweat from running and climbing washing away what sunscreen I did have on, proved to be too much for my pasty white upper arms and shoulders. When I got home Sunday night, I noticed that my arms were a little pink, but really didn't hurt much so I didn't think a whole lot of it at the time. It wasn't until Monday that they really started to hurt, and small blisters began to form on the tops of my shoulders. This wouldn't have been so bad on its' own, but then Monday night I was playing with my son and at one point he jumped on my back, completely ripping open the blisters on my left shoulder. Talk about painful!
My first concern was that I'm supposed to be running the Crow Pass Crossing this Saturday. Things have been progressing pretty well, and the pain gets less and less each day. At this point, it doesn't look like this is something that will prevent me from running the race, though I'm sure it's going to make for a less-than-comfortable experience. I'll just do the best I can at bandaging it up in the morning, and hope for the best!
I've still got 2 weeks until Resurrection Pass 100, which should hopefully be plenty of time to be well healed from my foolishness.