Last Saturday I ran the Crow Pass crossing, a 23-ish mile trail race through the mountains between Girdwood and Eagle River. I was really excited to finally run this race, as I've been wanting to do it for several years now. There are actually qualifying standards for getting into this race (since you're basically unsupported out there, and they don't want people in the race who aren't up to the task), and 2 years ago when I first wanted to run it, I didn't qualify. Last year it was just 1 week before the Resurrection Pass 50, and I felt like that was cutting it too close to allow for adequate recovery. This year, Resurrection Pass has a new race director, and they pushed the race back 2 weeks. Crow Pass got pushed back a week as well this year, but that still left 2 weeks between the races, so this year was finally my year!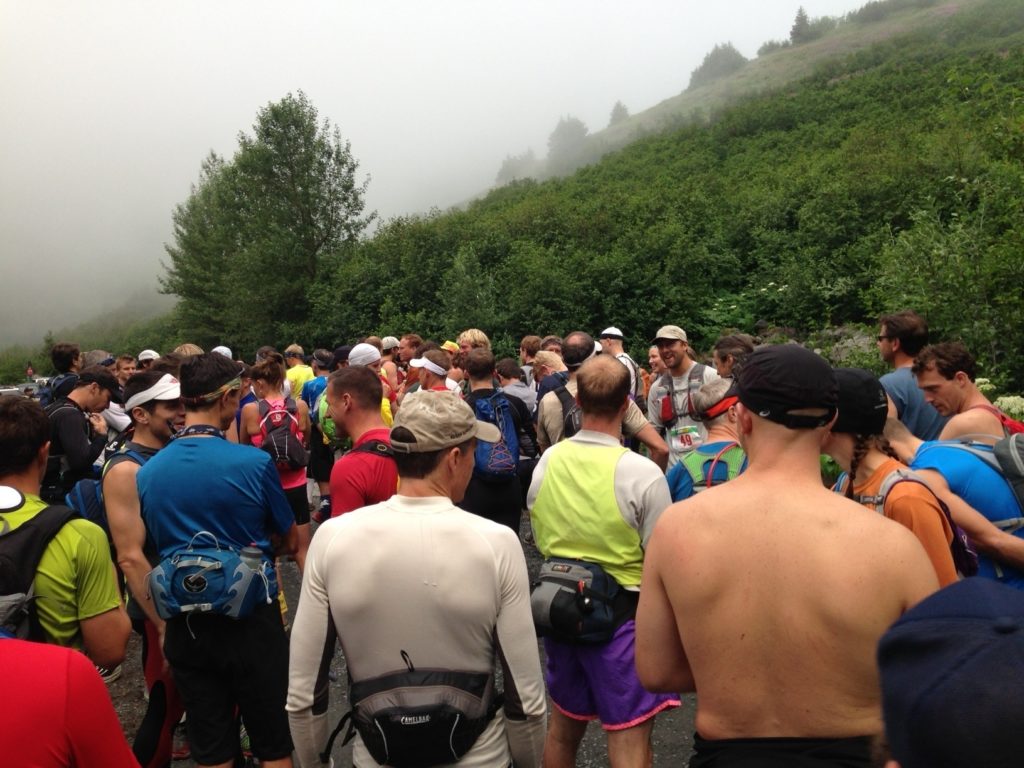 I've hiked the trail several times in the past, both as an overnight backpacking trip, and as a through hike in 1 day, but this would be my first time running on the trail. There are a few unique aspects to the trail and this race. First off, the race starts with a 2100′ climb to the top of the pass in 3.3 miles. You have 1 hour to make it to the top of the pass, or they turn you around. I made it up in 52 minutes – I was hoping to get there in under 50, but oh well. The other unique aspect of this race is the big river crossing. At right about the halfway point of the trail, you have to cross Eagle River. This is a fairly large river, and there are no ropes or anything to help you cross. And oh yeah, you're crossing just a few miles downstream from where it's melting off a glacier, so the water is COLD! The water level can vary quite a bit depending on the recent weather. In the past, the water has been anywhere between mid-ankle and mid-thigh high on me. This year, it was up to my crotch. To add insult to injury, as I was crossing, I felt something bump into my leg – I looked down and it was a basketball-size chunk of ice floating down the river.
But I'm getting ahead of myself, let me backtrack a bit…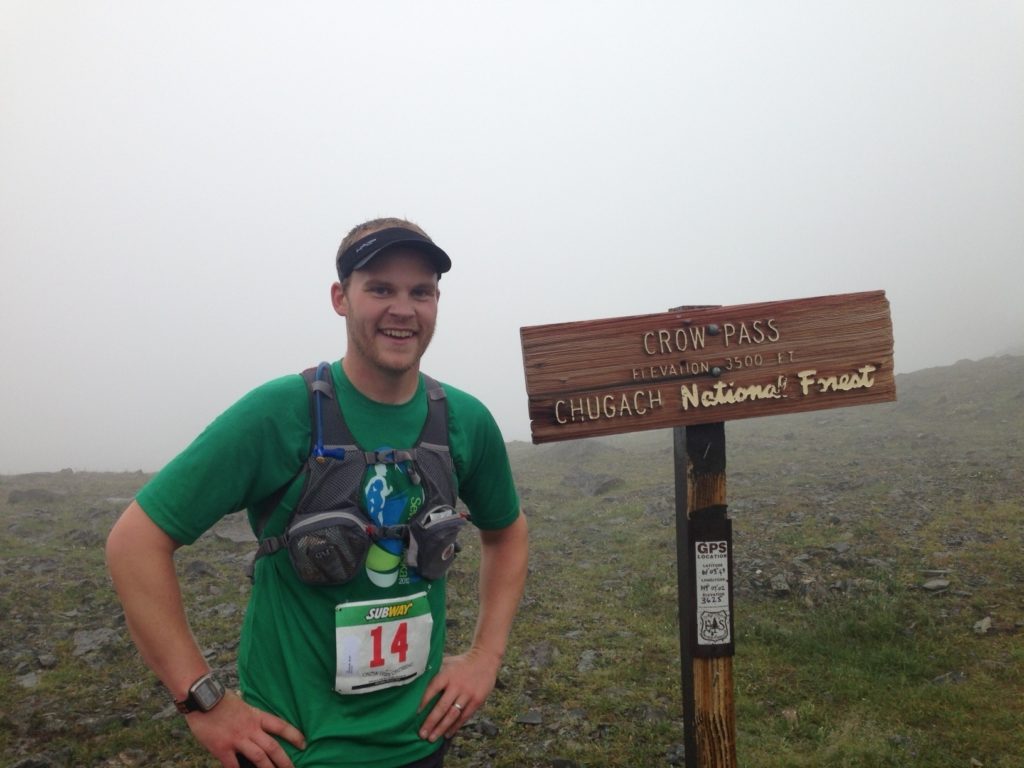 After reaching the top of the pass, I stopped to wait for my buddy I was running with. We had taken an "every man for himself" approach to getting to the top of the pass, just in case one of us didn't make the cutoff. He showed up a few minutes behind me, and we were on our way. Coming back down on the other side of the pass, it's pretty technical trail, crossing scree fields and large patches of un-melted snow, with plenty of rocks and roots jutting out of the ground to trip you up. And if that's not enough, much of the trail is overgrown with devil's club and cow parsnip, obscuring your view of the trail and scratching up your legs (if you're unfamiliar with cow parsnip, read here and here, it's nasty stuff). There was also a smaller river crossing relatively early on. This one wasn't anywhere near as deep or as wide as the Eagle River crossing, but big enough so that you couldn't avoid getting your feet wet.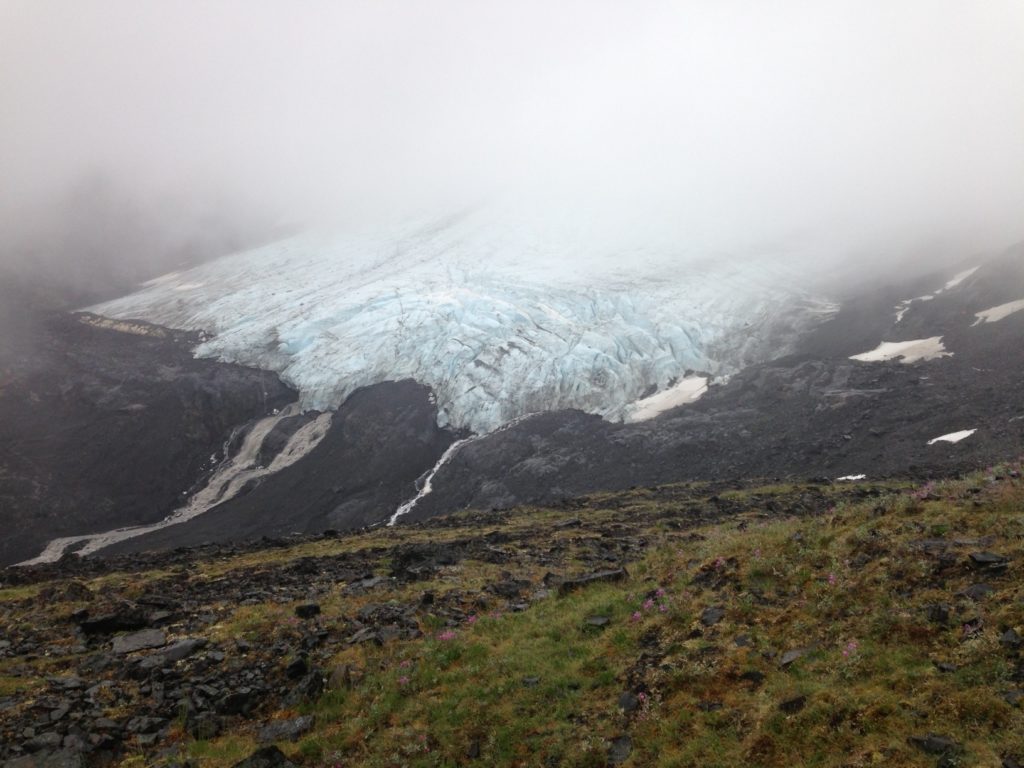 The buddy I was running with isn't quite as experienced with technical trail running, so it ended up being pretty slow going over some of these sections. As we were nearing the halfway point and the big river crossing, we hadn't seen anyone in quite a while, and I was getting the sinking feeling that we were at the very back of the pack. My suspicions were confirmed when we got to the river crossing. There were a couple of race volunteers there, to check people off as they came through, and to give you a wrist band to prove that you had crossed at the right spot. I had gotten a bit ahead of my friend again, and while I waited for him to cross, 2 other runners came by. When my friend showed up, the volunteers said that was everyone.
After crossing the river and getting feeling back in my feet, my friend told me to push ahead without him. We were about 3:15 into the race so far, with a 6 hour cutoff for finishing, and he wasn't sure he was going to make it. Part of me felt bad for leaving my friend, but I also didn't want to not make the cutoff. Up to this point, I had been going at a relatively easy pace for me, so I was still feeling pretty fresh and was moving quickly. The 2nd half is more runnable than the first, though there are still some pretty technical sections, including several creek crossings over logs holding onto a rope, and even a ladder to climb up one particularly steep section. Still, I was moving well and able to pass other runners late in the race who had all but run out of steam at that point. Alltogether I passed 9 runners in the last 5 or 6 miles of the race (there were 140 runners total).
In general, this is a remote trail race with no support and no cheering crowds, except for right at the start and end. But about 5 miles from the end of the race, there was a group of women camped out, cheering us along and handing out small cups of Gatorade and homemade chocolate chip cookies. It was such an unexpected thing, that it ended up being a huge boost for me. As you near the end of the race at the Eagle River Nature Center, the trails become wider, better groomed, and more runnable. These last few miles I felt like I was really moving, and passed several more runners. I pushed hard up the last hill to finish in 5:35 – a negative split of almost an hour!
I got some food and drink in me while I waited for my friend to finish. His family was there and getting worried as the 6 hour cutoff drew closer. With about 10 minutes to go, I put my pack back on and headed out to check on him. I was hoping it wouldn't be long before I ran into him, but it was probably 2 – 2.5 miles until I did. He wasn't injured, but was just having a rough day and moving slowly. I ran/walked back towards the finish line with him. It ended up taking him 7 hours to finish, and his family was happy and relieved to see him.
Apparently this was the year of the bee: my friend got stung twice, I got stung once, and everyone else I talked to got stung at least once. In all my previous trips hiking this trail, I don't remember ever getting stung before.
This was a really fun race on some beautiful trail, despite some of its' unique challenges. I'll definitely be back again!
Next weekend: Resurrection Pass 100!