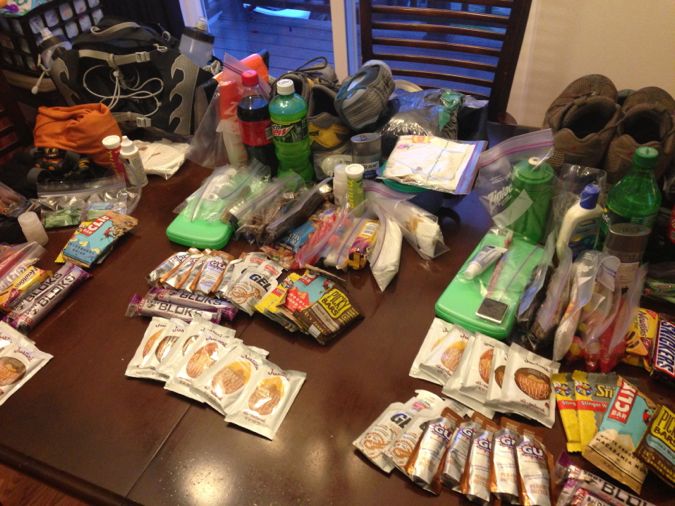 I had originally intended to include this list in my race report, but it was becoming so long, I decided to split this out into a separate post.
On any 100 mile race, your choice of gear is important. For a race like Resurrection Pass that is almost entirely self-supported, it's crucial. I consider myself extremely lucky in that I had very few problems during my first 100 miler, and I attribute that in large part to my choice of gear and nutrition/hydration. I had no major chafing or blistering issues, and aside from the general soreness and tiredness that you would expect during a 100 miler, my body held up very well. I was especially happy to have no issues with back pain, which is something that's caused me trouble in the past. I also really didn't experience any major lows the entire race. I worked hard to really stay on top of my nutrition and hydration, and it definitely paid off. For probably 25 miles, from mile 55-80, I actually felt really good, and was moving well enough to pass 2 people relatively late in the race.
So what did I use to get through my first 100 miler? Here's the rundown:
Gear/Clothes
Food
Justin's nut butter packets (various flavors) – these were my "bread and butter" fueling source. They go down easy and aren't sickeningly sweet like most gels. Plus, they're very calorically dense, with just under 200 calories per packet.
Peanut Butter GU – this is pretty much the only flavor of gel that I can stomach anymore, though I think I only ate 2 the whole race.
Jelly beans, Swedish Fish & peanut butter M&M's – some nice treats to look forward to in my drop bags. I packed them into those small "snack size" Ziplock bags, so that I had a little bit of a bunch of different things, depending on what sounded good at the time.
Fig Newtons – easy on the stomach
Peanut butter & honey sandwiches – I had one of these for each of the 3 sections of the race between aid stations.
Bacon – I'm guessing the combination of salt and grease is what makes this so appealing later in the race. I had a few slices in each of my drop bags.
Salt & vinegar chips – again, salt + grease = yum during an ultra. Also, supposedly vinegar helps with cramps, though that wasn't a problem for me that day.
Snickers & Payday bars – another quick pick-me-up with the sugar and salt. I think I had one of each.
Coke – sugar + caffeine + carbonation fizz. I had a bottle in each of my drop bags, but didn't drink more than a few swigs of each.
Hydration
Tailwind – a great alternative to the typical sports drinks. Much more of a "savory" than sweet taste. Unlike Gatorade and the like, I could drink this stuff all day without getting sick of it. The way I mix it, it comes in at 250 calories per bottle, and is actually meant to be used as your sole fuel source during long endurance events. I knew that carrying it to refill bottles out on the trail was going to be difficult, so for this race I was just using it to supplement my other fuel. I started the race with Tailwind in both bottles, and refilled at the aid stations from my drop bags.
Nuun electrolyte tablets – I don't like these anywhere near as much as Tailwind, but they were much easier for refilling at river crossings.
MSR Sweetwater purification drops – add 4 drops per bottle & wait 5 minutes before drinking – easy!