For something that I've spent so much time thinking about, training, and planning for, my first 100 miler kind of snuck up on me. When I first decided on Resurrection Pass 100 as my first 100 miler, it was way back in the middle of the winter, and August seemed so far off in the future. It's been an amazing summer here in Alaska (one of the nicest ones I can remember in a long time), and between t-balls games, camping trips with the family, long training runs in the mountains, and other races, August was here before I knew it. The week of the race, I had the typical pre-race jitters: doubting my training, questioning why I ever thought it was a good idea to run 100 miles, feeling phantom pains/sickness, etc.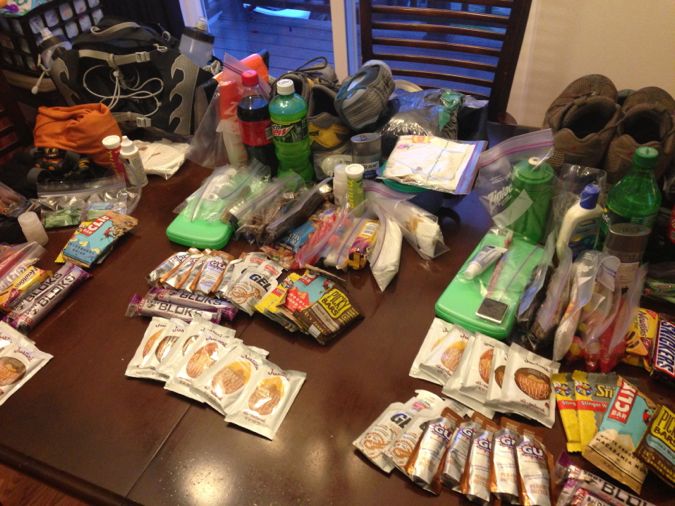 What packing for a self-supported 100 miler looks like.
As I've described before, the Resurrection Pass 100 is somewhat of a unique race, in that it's mostly self-supported along remote wilderness trails. There are only 2 aid stations at miles 42 and 70; for everything in between, you're on your own. This year there was a new race director, and they changed the course to eliminate the majority of running on gravel roads. Previously, the race started and ended with 12 miles of gravel road. This year, they added an out-and-back section on a side trail (Devil's Pass) that forks off of the main Resurrection Pass trail. This brought the number of miles run on gravel roads from 24 down to only 4. The 50 mile course saw similar changes, making that race entirely on trails.
The 100 miler started at 3pm on Friday afternoon, with the 50 miler starting at 6am on Saturday. I headed down to Hope with my cousin and another friend, who were both also running the 100 miler. This was the first 100 miler for all 3 of us, so anxiety and excitement were high as we made the drive. The plan was to at least start off running with my friend, as we're pretty close to the same speed, and we both liked the idea of having someone to run and chat with, especially during the night. This plan was flexible though, if one of us just wasn't having a good day out there, we wouldn't feel bad about splitting up.
With only 2 aid stations, I mentally split the race up into 3 sections. Similarly, I'm going to split my race report into 3 sections, between each of the aid stations.
Hope to Cooper Landing (miles 0-42)
The race starts off in Hope, a tiny town about 90 miles south of Anchorage (and aptly named for the start/end of a 100 mile race?). With the new course changes, 96 miles of the race is run on trails. To make up the remaining 4 miles, they started off the race by shuttling us 4 miles down the gravel road from the trailhead. The race started off without much fanfare. The race director gave a quick talk that basically consisted of "have fun, be safe". He then gave us a 10 second countdown, and we were off. These first 4 miles on gravel road were actually pretty fun. There were 13 starters, and we all pretty much just ran easy together in a group, chatting and mentally preparing for the miles ahead. Most of us had left our packs at the trailhead, so once we reached there, we had to stop for a quick moment to get them on and adjusted before heading out onto the trail, and the next 38 miles that awaited us before reaching the first aid station.
I tried to find a comfortable pace early on, thinking that something around 12-13 minute miles sounded reasonable. I knew that this was likely to slow down running through the night, and during the later miles of the race, but for now it felt easy and sustainable. One of the "problems" with this trail (at least in terms of running a 100 miler on it) is that so much of it is runnable. The typical tactic of an ultrarunner is to walk any of the steep hills. There is about 10,600′ of total elevation gain on the 100 mile course, but none of that is particularly steep. From the very start, I had to force myself to take walking breaks every now and then, whether I felt like I needed it or not.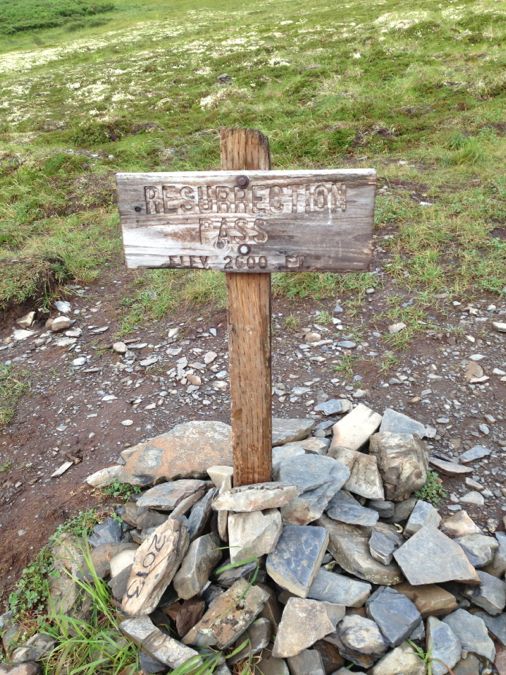 Crossing over Resurrection Pass for the first of two times.
The forecast heading into the weekend wasn't good, and it had started raining before we reached the trailhead. It started off as a light sprinkle, but wasn't long before it was coming down hard enough that I had to put on my rain coat. The temperature was in the mid 50's, and at this point I was cool, but not cold. Though I was starting to get worried that it would be a long miserable night if it kept up like this. Luckily, the rain stopped by mile 15 and wouldn't return, aside from a few light sprinkles here and there.
Even though the heavy rain had stopped at this point, its' effect would be felt for the rest of the race. Overall the trail is designed so that it drains pretty well, and you don't end up with those huge suck-your-shoes-right-off-your-feet mud pits that you see on some trails. Still, there were plenty of places with large sections of standing water that you either had to navigate around or run right through. If you opted to navigate around them (as I did), you ended up going through wet brush, so that in the end, your feet still ended up pretty wet. I had a full change of clothes and shoes in each of my 2 drop bags, so I knew I had those waiting for me if I really needed them.
One of the big lessons I took away from running the 50 miler last year, is that water is heavy, and I don't want to carry any more than I need to. Luckily, there are plenty of creek crossings along this trail. Last year, I carried a 70oz hydration bladder, and my shoulders were aching by the end of the 50 miler. This year for the 100 miler, I opted for a waist pack with 2 20oz bottles. For me, having to stop a little more often to refill at creek crossings is a fair trade for not having to carry all that weight on my back. I treated the water with chlorine drops I picked up at REI; you only have to wait 5 minutes to drink the water (as opposed to 30 with iodine tabs), and I didn't notice any foul taste.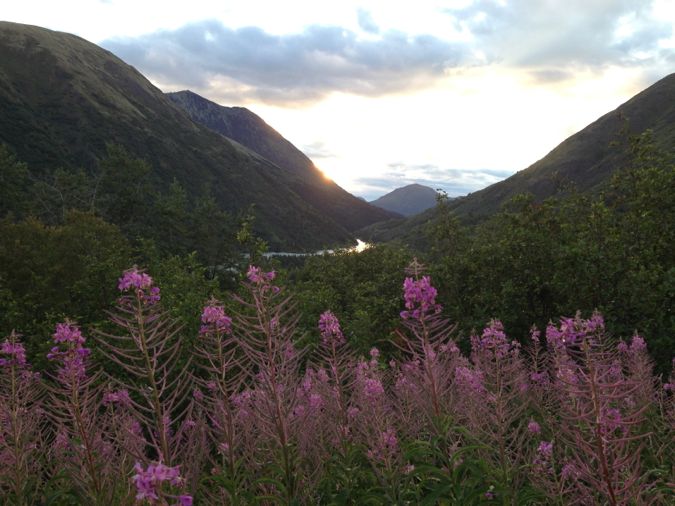 In the fireweed above Swan Lake.
One of my favorite sections of this trail is where it skirts right around the edge of Juneau Lake, about 9 miles from the Cooper Landing end of the trail. I was hoping that we'd make it there before the sun went down, so that I'd actually get to see it in the daylight, but I knew it was going to be close. We made it there after the sun had technically gone down, but when it was still light enough out that I didn't need my headlamp yet and I could see this section fairly well. Pushing ahead after that, it was time to switch our headlamps on, as it was getting quite dark. It was about 11pm when we first switched them on, and we'd end up needing them until around 5:30 the next morning.
As we neared the first aid station at Cooper Landing, I knew we would start passing other runners heading back in the other direction. After the first few miles of trail, everyone had pretty much spread out and settled into their own pace, and it had been quite a while since we had seen anyone else. I knew we were right around the middle of the pack, but I was interested to see how far ahead the leaders were. Unsurprisingly, the first to pass us was defending champion David Johnston. This guy is a super impressive runner, and a heck of a nice guy. He's won this race the last 3 years, and this past winter, he won the 350 mile Iditarod Trail Invitational. At the point he passed us, he was already 10 miles ahead of us. He also had quite a lead on the rest of the front-runners, who we didn't start passing until we got closer to the Cooper Landing trailhead. As we descended the final miles to the trailhead, all I could think about was the warm soup that we were told by other runners was awaiting us.
Upon arriving at the Cooper Landing trailhead, I immediately thought of the mantra "beware the chair" that I've heard so many times in relation to ultras. Bascially, the idea being that if you sit down, you might not get back up again. So I didn't sit down, I didn't even take my pack off – I didn't want to get too comfortable. The race director's wife was manning the aid station, and I asked her for some soup as I grabbed my drop bag and started restocking my food for the next 28 miles. I had also packed a few special goodies in my drop bag, so that I'd have something to look forward to – bacon and salt & vinegar chips. These both really hit the spot, and I washed them down with a few swigs of Coke. My feet were wet, and I had an extra pair of shoes that I could have changed into, but at this point my feet weren't causing me any problems, and my shoes were working well for me, so I didn't want to fix something that wasn't broken. I refilled my bottles while the RD's wife made me 2 small ham sandwiches on rolls that I planned to take with me and eat on the trail. I grabbed a chocolate chip cookie to go with it, and we were off for the next part of our adventure. All in all we spent about 20 minutes at the aid station. At a "normal" 100 miler with more regular aid stations, I would never spend so much time at one, but since this was only 1 of 2, I figured it was ok to spend a bit more time there and make sure I got everything I needed taken care of.
Cooper Landing to Devil's Pass Trailhead (miles 42-70)
Heading back out onto the trail from Cooper Landing, we immediately have several short climbs. We had both grabbed some extra food "to go" from the aid station, so we just started walking while we ate. I think it was around 1:15am when we headed back out, so it was plenty dark out, with a little more than 4 hours to go before we started to see light again. Having counted the number of runners we passed on our way in, we knew there were 4 more behind us (including my cousin). We passed the first 3 relatively quickly, probably within 30 minutes of leaving the aid station. But we still hadn't seen my cousin, and I was starting to get worried. Finally we saw another headlamp coming back towards us and it was her. Turns out that with the slick trails, she had rolled her ankle and was moving pretty slowly. She was basically just walking it in at this point, with the plan of dropping when she got to the aid station. We later found out that 2 of the others who were behind us ended up dropping there as well.
Going into this race, running through the night probably gave me the most concern. Between the darkness and the lack of sleep, I could see it easily becoming a long slog through the night, waiting for morning to come. However, I never really felt a dip in my energy. I had sucked down about half a bottle of Coke at the aid station, so that had given me a caffeine boost. I kept eating regularly through the night, almost constantly taking in calories in one form or another. However, the buddy I was with was definitely starting to lose steam. The pace of our running slowed, and walk breaks became more regular. Eventually, all we were doing was walking. I think we walked exclusively from around 3:30 – 5:30am. At that point, he declared that he was done, and was just going to walk it out to the mile 70 aid station, where he would drop. We talked about this a bit, and I made sure he was doing okay before pushing on ahead. This was around mile 54, so I still had nearly half the race ahead of me.
Having just walked for the majority of the last 2 hours, my legs had done somewhat of a "reset", and I was feeling pretty energetic. I was moving well, and definitely in good spirits. I began the climb up towards Devil's Pass, where the new out-and-back section was. I had never been on that section of trail before, and I was looking forward to something new. I was also anxious to see how the race was progressing and where the front runners were. The first runner I encountered was Laura McDonough, another amazing local ultrarunner who has won this race outright several times before. At the time, I wondered what had happened to Dave. Was he so far ahead of me that he had completed the entire 20 mile out-and-back section on Devil's Pass before I even started it? I didn't spend too long thinking about it, but just kept pushing ahead.
It wasn't much longer before the battery on my Garmin finally died. A month or so ago, I picked up the Garmin 310xt, with an advertised battery life of 20 hours. Mine lasted about 17 1/2. I had a regular watch with me that I picked up in my first drop bag, so I could still keep an eye on the time, and I know this trail well enough that I had a pretty good idea of what mile I was at at any given time. I liked having the Garmin earlier in the race to keep an eye on my pace and remind myself to slow down. With this long of a race, it's all too easy to get carried away with your pace early on. Now that it was getting later in the race, my pace goal was pretty much "whatever I can manage".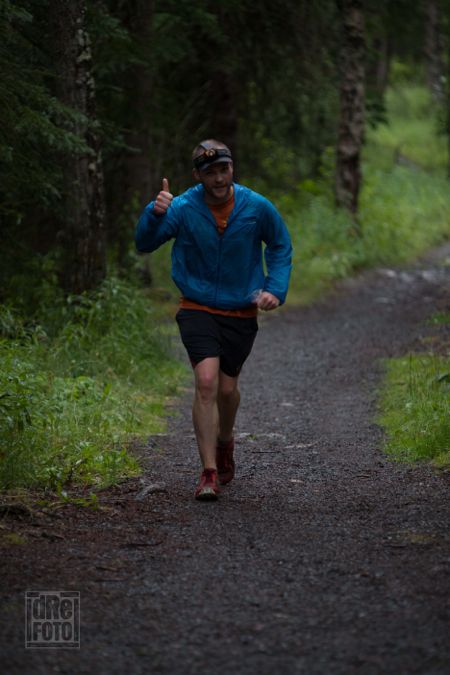 Approaching the mile 70 aid station, still smiling! Photo by Andre Horton.
As I neared the trailhead, I passed 2 other runners (Tony and Shawn, husband and wife) who were walking up a steep climb. Not long after that, I found myself at the trailhead, the 2nd (and last) aid station. There were 3 other runners still at the aid station – Greg, Eliseo (who has run this race all 11 years that it's been done), and Jeremy). I found out at that point that Dave had dropped here earlier. All things considered, I was actually still feeling pretty good. I got some coffee and chocolate milk from the aid station, and this time opted to sit down because I planned to change my shoes. The last 10 miles along the Devil's Pass trail were really wet, and my feet were just totally soaked and sore at this point. Even if they wouldn't stay dry for long, getting into a new pair of shoes sounded really nice. Unfortunately, my feet were too swollen at that point, and wouldn't fit into the spare pair I had waiting in my drop bag. Instead, I opted to at least change my socks, figuring that would be better than nothing.
Restocking my supplies for the last 30 miles. Photo by Andre Horton.
Once I had dry socks on, I began restocking my pack with goodies for the last 30 miles. I was sore and tired, but excited at the idea of starting the last section of the race. And I knew that I would soon start encountering 50 mile runners, so if nothing else there would be more company on the trail. While I was getting my stuff ready, 2 of the others (Greg and Eliseo) left ahead of me. Both complained about not feeling very good, and not looking forward to heading back out there. I wondered if I'd be able to pass them in the last 30 miles. Jeremy was still hanging out at the aid station – his feet and back were hurting badly, and he was debating whether he was going back out. I wished him well, tried to offer some encouragement, and headed back out to face the trail. I'd later find out the he eventually decided to drop there. Add to that my friend Larry (who planned to drop there once he walked out), and Anne, who was behind me and also decided to drop there, and that meant 7 of the 13 starters had dropped.
Devil's Pass Trailhead to Hope (miles 70-100)
Leaving the trailhead, I was moving pretty well on the flat and downhill sections, but couldn't do much on the climbs anymore, so I was doing a fair amount of walking. Still, I was moving pretty well, and managed to catch up to Eliseo and pass him within the first few miles. Soon after that, I'd start encountering 50 mile runners, and at least have someone to smile and nod to. I saw several people I knew, so it was nice to see some familiar faces and get some kind words of encouragement.
Heading back towards Resurrection Pass along the Devil's Pass trail, it's pretty much a constant uphill. Most of it is fairly gradual, but it's continuous. Some of these miles were really starting to drag on, and I was looking forward to getting back to the main trail – both because I was more familiar with it, and because it meant that I'd be on the "home stretch" (even if that meant there were still 20 miles to go). As I ran along with only a few miles left of the Devil's Pass trail, my spirits were at least temporarily lifted when I saw Greg up ahead and realized I'd be able to pass him as well. We exchanged a few pleasantries as I passed, and then I was on my way. Tony and Shawn had been quite a bit farther ahead leaving the last aid station, so I didn't have much hope of catching either of them, but this at least put me in 4th.
Eventually I made my way back to the main trail, which was a huge mental boost. There was a bit more climbing to get to the top of the pass, and then it was "all downhill" from there (of course not really, but it felt good knowing that at least in general, I was beginning the final descent back towards Hope). These were the miles that really started to drag on. Mentally and emotionally, I was still doing pretty well (in fact, I never really experienced any significant lows during the entire race), but I was ready to be done. My feet were getting really sore at this point, and somewhere around mile 85-90, my left ankle was really starting to bother me. I kept pushing forward as quickly as I could, telling myself that the faster I moved now, the faster I'd be done.
Finally, I crossed a bridge that I knew meant I had 6 miles to go. On one hand, 6 miles sounded like nothing compared to the 94 miles I had already run. On the other hand, at the pace I was moving at this point, I knew that I still had around 80 minutes of running ahead of me. This last section of trail pretty closely follows a river, ending at a bridge that takes you across to the trailhead. Even though I was still miles from this bridge, my mind was starting to play tricks on me, and I kept thinking that I could see it just up ahead, only to be dissapointed when I'd get closer and realize it was just some fallen trees. I kept moving forward, knowing at this point that barring a last minute bear attack, I was going to finish this race.
At long last, I spotted the bridge that would take me back across the river and to the finish line at the trailhead. 25 hours and 42 minutes after I had started, I was done. I had run 100 miles. I finished 4th of the 6 runners who completed the race. Somehow, I also managed to negative split the race, completing the first 50 miles in an even 13 hours, followed by the second 50 in 12:42.
Crossing the final bridge that would bring me to the end of my 100 mile journey. Photo by Andre Horton.
Laura McDonough won the race in 22:06, the 3rd time she's won the race outright, and only 15 minutes shy of her own women's course record. She's 52 years old, and I'm happy to get chicked by her anytime.
Alaska: where men are men, and women win 100 milers.
Soaking my feet in the icy cold river after the race.