It's been almost 3 weeks since the Sluicebox 100 up in Fairbanks, so some of the details are kind of fuzzy at this point. One of the things that I definitely won't forget is sharing many miles on the trail with this awesome lady:
I had met Sarah a few times before, but we hadn't talked much and I didn't know her particularly well before this race. There was never any discussion of it or planning before the race, but once we started running, we almost immediately found ourselves running together and chatting. We ended up running the first 50 miles together, before she pushed ahead while I was going through a rough patch, and then another 15-ish miles near the end after I caught back up to her.
It's amazing how much you learn about someone when you spend that many hours running together. It's as if time gets compressed. You go in hardly knowing someone, and then after 16+ hours of running together, you feel like you've been friends for years. One cool thing I'll tell you about Sarah is that she's in the midst of running the Alaska Slam – all 4 100 milers in Alaska in the same year. That's Susitna in February, White Mountains in March, Sluicebox in June, and finally Resurrection Pass in August.
The week leading up to the race, Fairbanks got hit hard by rain. There were flood warnings, and I was getting worried about what we in store for during the race. It was still raining when Tony and I arrived in Fairbanks Friday afternoon in time for packet pickup and the race briefing, and continued all night until we went to sleep. Luckily, when we woke up early the next morning, the clouds had parted and we were greeted by beautiful blue skies. But I worried about what sort of condition all that rain had left the course in.
As it turned out, the main parts of the trail were mostly in good shape. But many of the lower areas had filled with water and turned into boggy mud pits. It was hard to tell how deep or mucky most of these were, so we found ourselves detouring around these areas into the bushes, in an attempt to stay as dry as possible. This was slow and time consuming, and definitely not one of my favorite parts of the race.
One thing I'll say about the Sluicebox course is that it's almost never flat. It's not super mountainous around Fairbanks, but there are lots of hills, so you're pretty much always going either up or down. Overall there was a little over 15,000′ of both climbing and descent in this race:
Unlike Resurrection Pass, which was almost entirely self-supported, Sluicebox has a fair amount of support. There were 4 fully stocked aid stations, as well as 10 unmanned water stations, a few of which you visited more than once due to loops in the course. I wore a hydration pack with a 1.5L bladder, and that worked out really well for me. I kept it full of Tailwind most of the race, and began relying on that more and more for calories as the day went on, when my stomach wasn't always in the mood to eat.
Another unexpected benefit of running with Sarah is that she had brought along 2 friends as crew members, and even though I had never met Karen and Mike before Friday's race briefing, they adopted me as one of their own. I was able to have drop bags at each of the 4 checkpoints, so I had gone to the race alone feeling like I didn't need a crew, but it was awesome to have Karen and Mike there to lend a hand, or even just see a familiar face at 2 in the morning.
The section between the first and second checkpoints is one that they warned us about at the race briefing. It was a pretty wet section, and at one point you take a steep descent all the way down Ester Dome into what had become a lake, only to loop around and climb all the way back up again. The need to swim across was mentioned, and Sarah joked about stopping at the store to pick up a pool noodle after the race briefing. When we reached the bottom of Ester Dome, it was apparent they really weren't kidding, there was a small lake down here, right in the middle of the trail! Luckily, we were able skirt around the edge of it and stay (mostly) dry. Though again, this was time consuming and frustrating. Then began the steep climb back up to where we had just come from…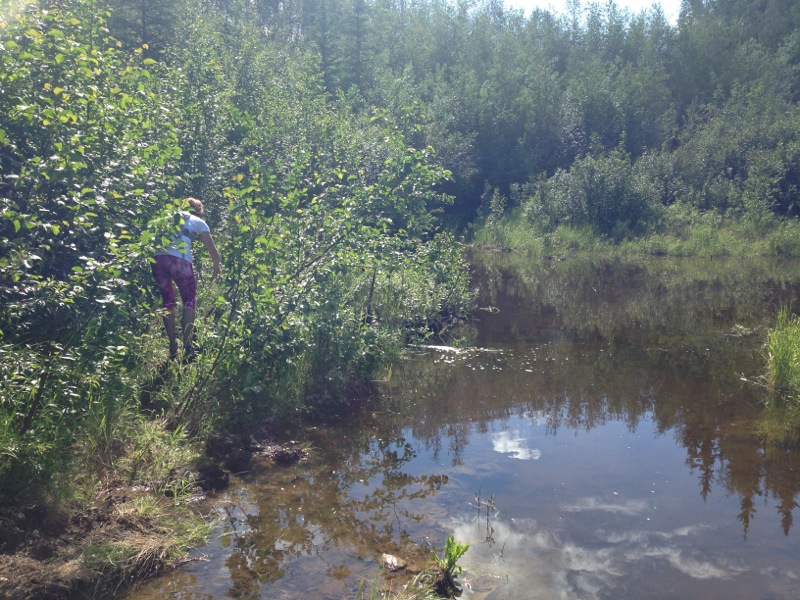 Right about the halfway point, there was a long, steep climb up Moose Mountain. One of the most frustrating things about this climb is that it was through a heavily wooded area, and so it was impossible to see how much farther we had to go. It was a climb that seemed to just keep on going forever, and it was incredibly steep in a few sections. I was getting tired and starting to bonk, but even going at a ridiculously slow pace up this steep climb, my heart was beating out of my chest and I was breathing heavily. I would have had to stop for several minutes to let my body settle down before I could eat or drink anything. Instead I decided to just soldier on and get to the top of this climb before I worried about refueling. But I was moving slowly, and this is when Sarah pushed on ahead of me. Finally I reached the top of the climb and turned onto a dirt road to begin the descent back down. I could see Sarah a few hundred yards ahead, but I needed a chance to let my body settle down so I could refuel.
Not long after is when I started hearing of people dropping, and it was starting to become a race of attrition. Overall the course was marked pretty well, but there are quite a few tricky turns that you could easily miss or get confused by. We managed to stay on course the whole time, but heard many stories of missed turns and extra miles run to get back on course. The brutal course and trail conditions, combined with the mental hit of going off course, was taking its' toll on many people. I came up from another climb onto a dirt road and was immediately greated by another runner's wife, asking if I'd seen him. He called saying that he wanted to drop. In a race like this, even if you've decided that you want to drop, it could be several hours before you get to a place where you actually can drop.
On this next dirt road section, I passed Houston (who is also doing the Alaska Slam). He was walking and didn't look very good. I tried talking with him a bit and offering encouragement, but he didn't seem much in the mood, so I continued on. I found out later that he had missed a turn shortly after the 2nd checkpoint and ended up running several miles extra. This was also his first 100 during the summer, and it had been pretty hot during the day (mid to high 70's qualifies as "hot" by Alaska standards).
After climbing to the top of Murphy Dome (as I said earlier, there aren't any real "mountains" around Fairbanks, instead they call them "domes"), I was treated to a steep, yet picturesque descent alongside the Alaska Pipeline.
One of the benefits of running a 100 miler in the summer in Alaska: the above photo was taken around 1am. That's as dark as it ever got – no need for a headlamp!
Nearing the bottom of this descent, I could see a steep ascent up the next dome where the pipeline continued. It wasn't clear yet where the course led, and I kept thinking to myself "please don't send us up that, please don't send us up that, please don't send us up that." But alas, that's exactly where I was headed. It was indeed a steep climb (the photo below doesn't nearly do it justice), but thankfully at least relatively short.
Shortly after that I found myself at the 3rd aid station, around mile 68. This is where the carnage really started to pile up. Sarah had just left the aid station before I arrived, so I knew she was still doing well. As I arrived in the aid station, I went straight for the bug tent they had setup (the bugs this time of year in Fairbanks are horrible). There were 4 other runners inside, the most I had seen at any one point since starting the race. Tony and Jason had already dropped. Michael (the one whose wife had been looking for him earlier) hadn't officially dropped yet, but he wasn't looking good. To my surprise, Houston was also there (who I had passed 10+ miles earlier). Apparently he had taken another wrong turn, which turned out to be a short cut to the aid station. He sat there with a 1000 yard stare, contemplating what to do next. If he continued from there, he'd be DQ'd for cutting the course. Jason's wife offered to drive him back to where he went off course, which is the option he eventually took.
It was nice to see some familiar faces and share "war stories" from out on the trail, but I ended up spending way too much time at this aid station. Eventually I was on my way to the 4th and final aid station, this time only 10 miles away. I don't remember a whole lot from this section, other than the sunrise I was greeted to on a descent shortly before arriving at the last aid station.
This time, Sarah was still in the aid station when I got there. I did a quick sock change, ate some soup, and got out of there pretty quickly. Sarah had left a a few minutes before me, but I managed to catch up within about 2 miles. This last section of the course (about 22 miles) was not my favorite. It was mostly on dirt roads and rutted 4-wheeler trails. At this point the course felt a bit forced, like they were just piecing together whatever they could to get to 100 miles. I ran with Sarah until around mile 95, at which point I was just ready to be done. I was tired, and it was getting hot out again. We had been following a ridge line for a while, away from tree cover, and I was baking. I dug deep and found an energy reserve from who knows where, and pounded the final 5-6 miles as fast as my legs could carry me at that point.
Relieved, I crossed the finish line in 27:56, my slowest (but by far most difficult) 100 miler so far. Sarah finished about 30 minutes later. To give you an idea of the difficulty of this race, only 6 of 15 starters finished. My time was good for 3rd place. My hat is off to Houston for gutting it out and finishing in 32:33 (the cutoff is 36 hours).
I'm extremely happy to have finished my 3rd 100 miler, and especially one as difficult as this. Overall the race was well managed, but I wasn't a big fan of the course. The difficulty from the amount of climbing didn't bother me, that was one of the things that attracted me to this race. Rather, it was the surface of the majority of the course I didn't like. As I mentioned before, there were lots of dirt roads and rutted 4-wheeler trails – not your typical running trail. I also wasn't a fan of the many boggy, swampy sections that left me with wet feet most of the race.
Will I be on the lookout for more difficult races, with even more climbing? Yes, definitely. Will I run this particular race again? No, probably not.