As winter has been fast approaching here in Alaska, I've been getting worried about how I was going to handle running on the ice and snow. I put the question out on Twitter last week how other people handle running in the winter, and I was surprised when several people recommended Yak Trax.
I've actually owned a pair of Yak Trax for years that I use for walking around on the ice, and they are absolutely awesome for that. They are really popular up here, and are pretty much the de-facto choice for ice cleats. But for whatever reason, it had never really occurred to me to try running in them. Well, I guess the thought had at least crossed my mind, but I dismissed it almost immediately, thinking they would be too awkward for running because of their design.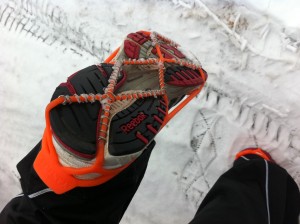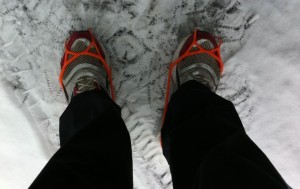 For anyone unfamiliar with Yak Trax, they have rubber banding that stretches tightly around your shoe, with metal coils on the underside. Like I said earlier, they are absolutely awesome for walking on ice. I've never had an issue with slipping or falling in them. But I was worried that their relative high-profile would make them awkward to run in.
On Saturday, I had a 10 mile run scheduled, so I decided to give my Yak Trax a try. I was pleasantly surprised with how well they worked for running on the snow and ice, and how un-awkward they actually were. Especially on the snow, the Yak Trax sunk in enough that they weren't really noticeable. They were a bit more noticeable on ice, but it was a small price to pay for the confidence they gave me to keep on running at my same pace without worrying about slipping. The only time they were a bit awkward was the few times that I was on bare pavement. They kind of grinded against the pavement, and probably wasn't very good for them either. I tried to run off to the side of the trail as much as I could where there was bare pavement, so this wasn't much of a problem, but something I thought worth mentioning.
All in all, I was very happy with how well my Yak Trax worked out for running on the snow ice. For any fellow runners out there who have to deal with running on the snow and ice in the winter, I would definitely recommend giving them a try.
Disclaimer: this post contains affiliate links to Amazon. If you happen to click through and buy Yak Trax through my link, I get something like 3¢ 🙂