I feel like I'm still recovering from Thanksgiving last week. We ended up doing Thanksgiving separately with mine and my wife's families this year, which really just meant double the food. We started out with brunch at my mother-in-law's house, which I actually did quite well at. For someone who doesn't eat meat herself, it was a surprisingly paleo-friendly meal. There were scrambled eggs mixed with sausage and veggies, and these bacon-wrapped beef steaks that were pretty amazing.
After brunch we went over to my folks' house for an early-afternoon dinner. My mom made the pretty traditional Thanksgiving meal: turkey, stuffing, mashed potatoes, yams, green bean casserole, rolls, etc. My uncle also brought over some rather delicious moose sausage. I had a little bit of everything, but tried to go heavier on the turkey and moose sausage than everything else. I also only had one serving – no seconds of anything! For dessert, there was both pumpkin and pecan pie. Let me tell you, I am a sucker for pecan pie – it's my absolute favorite, and this is the one and only time a year my mom makes it, so of course I had some! I actually had a medium-ish size piece of both pies, I was living on the wild side!
All in all, I felt like I did pretty well this Thanksgiving with not completely gorging myself as I have in years past. I was definitely full after the meal, but not uncomfortably so. Still, I know I ate more than I normally would, which kind of led to an entire weekend of not-the-best eating. Nothing completely terrible, and I'm back on track now, but still something I need to be more mindful of, and work harder to keep myself in check in the future.
Thanksgiving Traditions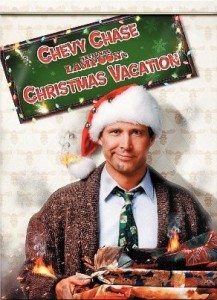 One of my family's Thanksgiving-weekend traditions has always been to put up the Christmas decorations, having that weekend as the kickoff to the holiday season. But now that our daughter was born on December 10th last year, we decided that we don't want the focus of the house to be completely taken over by Christmas until after her birthday. So this year, we just put up the outside lights, and will wait until after the 10th to do everything else. I did, however, manage to get in my traditional Thanksgiving-weekend viewing of my favorite Christmas movie of all time – Christmas Vacation 🙂
Marathon Week
Marathon week is finally here! I'm both excited and slightly terrified at the same time. Now is when all the worry and self-doubt has started to come pouring in, hoping that I've trained hard enough. At the end of the day, I know that I've put the work in, and that I should be fine. I just also worry because the whole thing has become such an event, with flying all the way down to Vegas, dragging along friends and family, etc. Both my mother-in-law and sister-in-law are coming along and walking the 1/2 Marathon, and my mother is coming too, but just to watch and be supportive. A good friend of mine and his wife are also coming down for support (it's not the only reason they're coming to Vegas, but it's definitely a big part of it). So there's a part of me that feels a lot of pressure, and I don't want it to end up being a big disappointment if my run doesn't go well for whatever reason.
We've had some pretty nasty weather here lately, with a fair amount of snow, and now a bit of a cold-snap, so I've been doing the vast majority of my running inside on the treadmill. In fact, when I run my marathon on Sunday, it will be the first time in 3 weeks that I have run outdoors, so hopefully that won't cause any problems. The weather report for Sunday has the start of the race around 40°, warming up to around 60° by the end of the race, which is just about perfect running conditions in my book.
I've been doing a lot of thinking lately about writing my name on my shirt for race day. I've heard of a lot of other people doing this, especially for their first marathon. The idea is that people on the sidelines will yell out and cheer for you by name, which might be exactly the sort of encouragement I need toward the end of the race. It sounds like a fun idea, and I think that I'll probably end up doing it.
I'm getting to Vegas Thursday night, and won't be leaving until Monday afternoon, which will be nice to have a day to rest after the marathon on Sunday before I have to hop back on a plane. There's also going to be some other really awesome bloggers there that I hope to be able to meet up with. I've been really excited about this trip for a while, and it's hard to believe that I've only got one more day of work before I'm on my way – and only 5 days until I'll be running my first marathon!
I likely won't have any more updates here until after I get back from Vegas, but I'm sure I'll be tweeting (at least some) while I'm in Vegas, so you can keep an eye out there if you want to see how I do on Sunday!