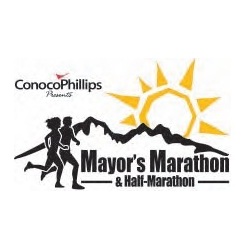 I'm just one week out from running my 6th marathon, the Mayor's Midnight Sun Marathon here in Anchorage a week from today. This is my first marathon since last October when I ran the Marine Corps Marathon in Washington, D.C., making this my first marathon as a Marathon Maniac – you bet I'll be wearing my Maniac shirt loud and proud!
This will be my 2nd time running this marathon (having run it for the first time last year), and there's a certain amount of comfort in that. I know the course – where the hills are, where the flat spots are, and where I can likely make up time late in the race if I'm feeling up to it. There's one particularly nasty hill right in the final mile. It kicked my butt last year, so I've been attacking it repeatedly on my long runs.
My current marathon PR is 4:00:35 at the Moose's Tooth Marathon last August. Both my training and my performances in shorter races so far this year tell me that I'm in shape to set a big PR, but as we all know, anything can happen on race day. If you plug my recent 1/2 marathon time of 1:37:21 into the McMillan Race Pace calculator, it claims my "equivalent performance" would be a 3:25:19 marathon. Maybe it's purely mental again (I didn't think I could pull off sub-1:40 going into that last 1/2 marathon), but 3:25 seems completely bonkers to me. Besides, the "equivalent performance" moniker assumes that your training has been at that level, and mine simply hasn't. Coming from a 4 hour marathon, 3:25 just seems insanely fast, so my training hasn't reflected that type of speed. The pace I've been running my track sessions and tempo runs at has been targetting a 3:35-3:40 finish time. More on my exact goals for this race later.
I feel like I've prepared as well as I can. I think (and hope) that my ultra training will pay off. All of the back-to-back long runs have definitely improved my endurance and gotten me more used to running on tired legs. I've also done more speed and tempo work than I've ever done in the past, the results of which have definitely shown themselves in my shorter races this year. For now, I just have to wait until the big day and hope for the best. Until then, I'm in the midst of taper madness, convincing myself that the reduced running is going to make me slow and fat – despite the fact that I've managed to drop a few extra pounds since last month (I'm currently hovering around 207).
My goals for the race? I say goals plural because I think it's important to lay out A/B/C goals, acknowledging the fact that no matter how good your training, anything can happen on race day – bad weather, upset stomach, or maybe it's simply not your day. If you only set THE be-all-end-all goal, then it can be quite dissapointing if you fall short.
C goal: 3:59:59 – This is my fallback goal. On a good day, I know I'm capable of quite a bit faster than this. But even if everything goes wrong, I still want to see a 3 at the start of my finishing time, just to get that sub-4 monkey off my back.
B goal: 3:40 – This is my reasonable goal of what I feel I can run if things go at least relatively smoothly for me on race day.
A goal: 3:35 – This is my "stretch" goal. Everything would have to go pretty much perfectly for this to happen. I'm talking sun shining, birds singing, puppies playing perfect. I'm going to start out on pace for a 3:40 finish, and I'll reassess how I'm feeling as the race progresses. After about mile 14.5, it's pretty much all downhill or flat, aside from that nasty hill in the final mile. Once I reach that point, if I feel like I've still got some in the tank, I'll try speeding up bit by bit in the final miles.
I'm finding myself getting anxious for next Saturday to finally roll around. Waiting is the hardest part. After all these weeks and months of training, I'm excited to see what I can do come race day!