Last time, I left you with the cliffhanger of me about to embark on running around a track for 24 hours. 6 Days in the Dome was an interesting experience, to say the least. I ran the 24 hour race on the first day, and then hung around most of the rest of the week helping out and watching the action unfold. I was happy to have met my "A" goal of running a sub-24 hour 100 miler – but not by much!
I finished the first 50 miles in about 9 1/2 hours, which I was very pleased with, and still feeling pretty good. Unfortunately, around 2 or 3 in the morning, I had something happen that was a first for me in 100 mile races: I could barely stay awake. I don't know if it was the monotony of running on a track for that many hours, or because the lights never went off, but whatever it was, I needed a nap if I had any hope of hitting 100 miles! After a few attempts at taking just a short 15 minute nap, and not feeling very rejuvenated, I finally laid down for about 45 minutes and that finally helped. All in all, I probably laid down for about 90 minutes.
Once I started running again, I was doing the mental math on whether 100 miles was still a possibility for me. I thought I could still pull it off, but it was going to be. I figured out how many laps I needed to average per hour, and decided to just take it an hour at a time, instead of thinking about how much longer I still had to run. The mental side of a timed race like this is quite a bit difference, since there's not really a finish line, you just keep running as far as you can until the time is up. I was meeting my hourly lap goal by just 3 or 4 minutes, but that was enough to keep my hopes alive that I could still do this. As the hours went on, I was actually speeding up a bit, meeting my hourly lap goal with 7 or 8 minutes to spare. With just a couple hours to go, I knew I had my goal all but met, as long as nothing went seriously wrong.
I hit the 100 mile mark at about 23:35, and managed to bang out a few more laps for 101.5 miles total in 24 hours. Overall, I liked the timed race format, but I'm not sure I would want to do a race like that on an indoor track again. The track at the Dome is very hard, and took its' toll on many runners. It was very interesting to hang around the rest of the week and see the whole thing play out. There are many ups and downs over the course of 6 days, and it was pretty amazing to see someone who could barely limp around one day, would be running around at a pretty good clip the next.
Without a doubt, the most inspiring part of the whole 6 days was watching Traci Falbo break the women's 48 hour record. She had started on the first day along with me, and was extremely friendly and cheery every time she passed me. It was a privilege to watch her final few laps, while it became very obvious how much she was hurting as she leaned far to one side, but still determined to keep pushing hard and get as many laps in as she could. After completing her final lap, she just collapsed, having given it everything she possibly could. If you haven't see the video of her finishing, it's something you really should take a moment to watch:
Hatcher Pass Marathon
Rewinding back a few weeks, in between Sluicebox and 6 Days in the Dome, I ran the Hatcher Pass Marathon. This is one of those races I had been wanting to run for several years, but for one reason or another, just hadn't been able to. This year, I was finally able to swing it. I ended up running most of the race with my buddy Ray, which is always a joy. The race course itself is beautiful – as the name suggests – through Hatcher Pass near Willow. Pretty much the entire course is a gradual uphill climb, with several very steep climbs thrown in for good measure. All in all, there's about 4000 feet of elevation gain. Then, just to really piss off your legs, the final mile is a long downhill to the finish line.

Overall it was a very enjoyable race. Having just run Sluicebox 3 weeks prior, my legs were still pretty flat, so I didn't run a blazing fast time, but I still had a great time. My cousin was out cheering on the course and passing out beer and pretzels around mile 21, which was a welcome surprise. The race medal was also very cool, it was handmade from clay: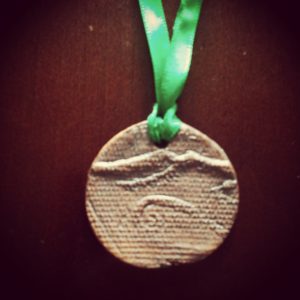 What's Next?
Next weekend, I'm heading to the east coast for the New York City Marathon! I've been trying to get in for the last 4 years, so I'm super excited for this! I have no doubt it's going to be a great time. After that, I've got a few ideas of what's next, but haven't made any specific plans yet. It will be the first time in quite a few months that I don't have anything on my race calendar. But I'm sure that won't last for long… 🙂