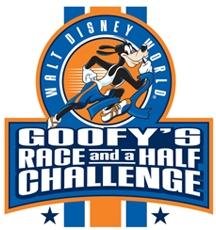 My wife is what I'll call a "planner". She likes to have things planned out way in advance. We've had this trip at least tentatively planned out for close to a year now. So when registration opened up this week for the 2013 Disney World Marathon weekend, we signed up almost immediately. My wife signed up for the 1/2 marathon, and as the title of this post hints, I signed up for the Goofy Challenge. If you're not familiar, that means I'll be running the 1/2 marathon on Saturday, followed by the full marathon on Sunday. For running 2 races, I'll get 3 shirts and 3 medals – score! 🙂
I read quite a few race reports from people who did the Goofy Challenge this past January, and it sounds like a really fun event. We love everything Disney, and it sounds like a lot of fun to run through the different parks. This is also the 20th anniversary of the Disney World Marathon, so I imagine there will be some special things going on for that. I'm already planning on these just being "fun" races. I'm going there to enjoy myself, take pictures, get pictures taken with characters along the way, with no real goal other than to have fun and make it through the back-to-back races.
Our kids will be 5 and 3 at that point, which should be just about perfect for them to have a really good time. We're planning on being down there for about 10 days, so we'll have plenty of time to explore the parks and enjoy ourselves. Orlando is a long haul from Alaska, so you've got to stay long enough to make the trip worth it!