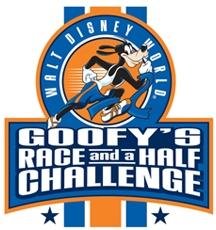 After 13 hours of air travel with 2 sick kids, I'm finally back home in Alaska after last weekend's Disney World Goofy Challenge in Orlando. The Disney World Marathon weekend consists of the Donald Duck 1/2 Marathon on Saturday, followed by the Mickey Mouse Marathon on Sunday. The Goofy Challenge has you run both races.
The races started at 5:30am both days, so that they can get the roads and parks opened back up as soon as possible. This meant waking up at 3am 2 days in a row. This was mostly a game of "hurry up and wait", since we had to be on the shuttle buses by 4am, only to stand around in the first staging area near the finish line, until we were allowed to start making the 20 minute walk to the starting corrals.
Don't get me wrong, I had an absolutely great time at both races, it's just that 3am is an early wakeup call – especially 2 days in a row.
Day 1 – Donald Duck 1/2 Marathon
We turned this trip into a big family vacation, with my parents and my wife's family coming along. My wife, along with her mother and sister, walked the 1/2 marathon, so at least I had company in the wee hours of the morning the first day. My goal was to finish in just under 2 hours, in the hopes of saving my legs for the full marathon the next day. The course was a lot of fun, running through the Magic Kingdom and part of Epcot. Though that means that you still end up running a lot on the roads in between parks, and those miles can get a bit boring at times. Disney did a good job of keeping you entertained most of the way, with characters and music spaced regularly throughout the course.
Speaking of the characters for a moment – you can stop along the course to get your photo with them, and I was amazed how long some of the lines were, you could have probably spent 5-10 minutes waiting for some of them. I told myself that if any of the lines had only a couple of people, I would stop for a photo, but that never happened during the half. At the full marathon the next day, I ended up stopping for 2 character photos late in the race that didn't have any wait.
Due to the huge crowds of runners (around 25,000 on both days), I must have done more bobbing and weaving than normal (and thus running a fair amount longer than 13.1 miles), because within about the last 1/2 mile of the race, I realized that I was seriously going to have to pick up the pace if I was going to finish in under 2 hours. I just about sprinted across the finish line, but managed to finish in 1:59:33. Overall I felt pretty good after finishing. I was optimistic about the next day.
Day 2 – Mickey Mouse Marathon
My "soft" goal for the marathon was to finish under 4 hours. I knew it would likely be a tall order, considering that I had just run a half marathon the day before, and the weather forecast for the day had the temperature reaching high 70's/low 80's – much warmer than I'm used to, coming from the middle of an Alaskan winter.
My 3am wakeup came early again, however this morning I would be making the trip to the starting line alone, while my family stayed snug in bed. The "hurry up and wait" process was much the same, but at least this time I knew what to expect. There was a bit of a feeling of deja vu, as the announcers told the same stories and made the same jokes as the day before. My legs were definitely feeling a bit sore and creaky from the day before, so I did a bit of stretching and light jogging to try and work the cobwebs out.
Then we were off again. The first 6 or 7-ish miles were the same as the day before, heading up to and through Magic Kingdom. Then we got some new sites as we ran around the speedway track and onto Animal Kingdom. I didn't see this going on when I ran through, but I heard of runners later in the race actually stopping to ride the Everest ride (which, I totally would have done if I had known it was an option!).
Next it was onto the ESPN Wide World of Sport complex, where we weaved through the fields there, and even ran around the outfield of the baseball field. It was getting pretty hot by this point, and somewhere in here is where they had wet sponges at one of the aid stations, which was wonderful at the time. This is also about the time I had to stop for a short (but urgent!) bathroom break – the first time that's ever happened to me during a race.
Getting into these later miles, it was getting hot out, and I was starting to see a fair amount of carnage. People's pace was slowing way down, and lots of walking was going on. I was definitely feeling the effects of the heat, but so far had managed to keep a pretty steady pace. At this point (mile 22-ish), I was still on pace for a 4 hour finish.
Now we continued on a quick trip through Hollywood Studios, and then it would be onto Epcot and the finish. Here I stopped for a quick photo with Mr. & Mrs. Incredible (with the obligatory muscle-man pose). Then, running through a resort area between Hollywood Studios and Epcot, I caught the toe of my shoe on a curb and, not having the energy or the reaction time to recover, went down. I first caught myself with my hands, but still had enough momentum that I kept moving forward, so I quickly tucked my shoulder, rolled, and ended up in a sort of crouching position. I stood up and did a quick self-assessment – my hands were a little scraped up, but everything seemed to feel ok, so I started running again. I had a few people ask me if I was ok or if I needed a gel or anything. It wasn't until the bus ride back to my hotel after the race that I realized I had actually scraped my knee up pretty bad, and had a nice bruise on my hip.
After the initial adrenaline rush of my fall had worn off though, my remaining energy began to fade pretty quickly. My running pace slowed considerably, and I took a few short walking breaks. Once I reached Epcot, however, I perked up a bit as I knew the finish line was near. I stopped for a quick photo with Snow White since there was no line. Within just a few hundred yards of the finish line, I saw a runner go down ahead of me. Several runners quickly stopped to help him to his feet, and he was able to run across the finish line on his own. The crowd of spectators went wild for this, loudly cheering and clapping for him. The excitement helped me pick it up right at the end for a strong finish.
I high-fived Goofy as I crossed the finish line, then quickly spotted Bart Yasso in the finish area. I went over to shake hands with the running legend, got a hearty congrats and a pat on the back, then I was off to collect my well-deserved medals. For completing the Goofy Challenge, you get a 3rd Goofy medal, which you pick up after finishing the marathon.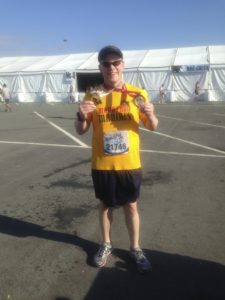 The 1/2 marathon and Goofy medals were pretty standard from what I've seen in other years, but since this was the 20th anniversary of the marathon, they really went all out on that medal:
I'm happy to report that through both races, I didn't have any problems with my feet. I wore Injinji socks and the same pair of Altra Instincts both days. Altra and Injini are proving to be a killer combination for comfortable feet.
My finishing time for the full marathon was 4:05:33 – not quite the sub-4 I was hoping for, but all things considered, I'm still very happy with that time. And it makes me very excited to see what I can do running "just" a marathon back in Alaska in cooler temps. I had a great time running both the Disney World races, and I highly recommend them for anyone who enjoys Disney. I would love to say that I'll be back again next year, but coming from Alaska, it's a long (and expensive) trip to Florida. If I'm going to pay that much money to run an out-of-state race, I'd prefer to run a race I haven't done before. Oh well, just one of the costs of living in paradise I guess 🙂